Christmas Hampers
Over the next weeks we will be looking for contributions from each tutor group towards hampers for local care homes and charities.
We appreciate this is a busy and expensive time but it is also a time when we think of those who need our support.
We would be grateful of any donations students can make towards their tutor group's hamper.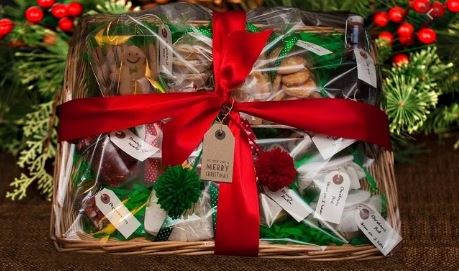 Here are some things that we would like to receive all with long shelf life left on them. No fresh or dairy products please.
All should have long shelf life and all pre-packed in their original packaging.
NO NUTS
Tinned products
Dried Pasta – plain and flavoured
Dried Noodles – Plain and flavoured
Tinned and jar sauces
Dried pulses and beans
Dried mash potatoes
Biscuits ( Plain and flavoured) chocolate covered icing covered all pre packed
Pre packed cakes
Chocolate ( all sorts )
Fruit cakes (Christmas or just fruit – plum puddings mince pies long life ones)
Crisps
Breakfast bars ( NO NUTS)
Tea
Coffee – Jars or boxes
Dried milk (carnation etc.)
Long life milk and flavoured milk
Sugar cubes/small sugar bags
Toiletries
Hand cream - face cream body lotion
Shampoo/Conditioner
Body washes
Hand wash & hand sanitiser
Bubble bath
Baths salts
Box Sets