Literacy
At CHSG, we have a Literacy Curriculum. We want our students to leave us with vast knowledge: the more students read the more they know and the more they know, the more intelligent they become and the more intelligent they become, the more likely they are to be happier, safer and live longer, more fulfilling lives. We have carefully chosen a literacy canon that is relevant, interesting and challenging for all. All the books chosen, in Tutor Reads, Wider Reading and for disciplinary reading purposes are sequenced and link across curriculum areas. There is a significant correlation between student reading ability and eventual performance across all subjects at GCSE, which is just as strong in Maths and Sciences as it is in Arts subjects.
We acknowledge that some of the barriers to reading for our students are fluency, comprehension, motivation and so to create a culture of reading within CHSG we have introduced three priorities for reading as part of our Literacy Curriculum:
Tutor Reads programme
Developed opportunities for disciplinary reading
The Wider Reading programme
Many parents and students ask us what they should be reading to become well-read citizens and to enhance their learning. Our Wider Reading catalogues feature a carefully curated collection of books that will enrich learning. The Teacher Recommendations present some information on which books our English teachers enjoyed when they were our students' ages and what they plan to read next.
Teacher Recommendations
Year 7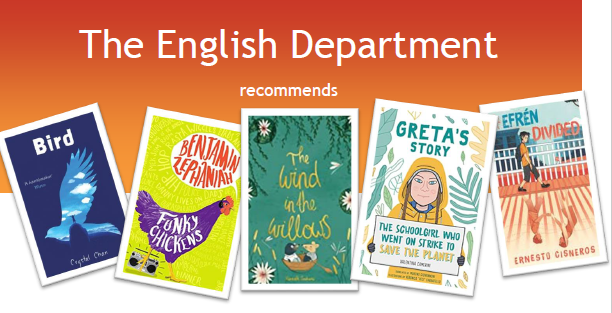 Mrs Bhatt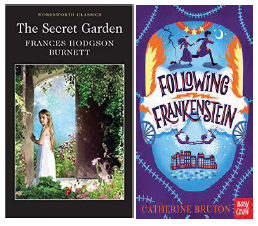 When I was your age I read The Secret Garden over and over again. Foremost, it was the enchanting idea of entering a garden that was magical. But soon after, I was drawn in by the way the main character learns how important it is to offer kindness and strike friendships with unlikely people. I hope you love it as much as I did. I'm looking forward to reading Following Frankenstein mainly because I teach the original novel for A level and I've always believed the Monster was a sad, neglected creature. I'll be interested to see why Maggie's father wants to hunt for him.
Ms Doherty
I really enjoyed reading Little Women when I was younger. Following the stories of the sisters as they went through both good and bad times led to a few tears being shed!
I'm looking forward to reading Me, In Between. Madina's story of being displaced as a result of war sounds like a difficult but worthwhile read.
Ms Umara
I really enjoyed reading Amazing Muslims That Changed The World. The illustrations are lovely. It feels good to read about such significant people who had such a huge impact on the world we live in.
I'm looking forward to reading The Extraordinary Life Of Serena Williams because I know she worked really hard to get to where she is and I admire that.
Miss Trout
I really loved reading The Railway Children when I was growing up. I really loved Roberta most of all because she was such a strong and independent character.
I'm looking forward to reading Julia and the Shark as it sounds like a really emotional (but exciting) story. Plus, I really love sharks so it's nice to hope that it might be the good guy!
Miss Oladogba
I loved reading Treasure Island when I was younger. If you're looking for a tale that is filled with lots of action and adventure then this is the one for you!
I'm looking forward to reading Great Goddesses as I've always been interested in ancient myths and legends.
Miss Ishola
A classic I always enjoy reading is The Jungle Book. It is a tale of friendship between man and animals. This book is powered by imagination, crafted by Rudyard Kipling's mastery of language and encapsulates the innocence of childhood. Disney also produced one of the best adaptations (in my eyes anyway) with catchy songs and lovable characters. Kipling's Just So Stories may also be of interest if you have ever thought about how certain animals came to be the way they are. These origin stories definitely continue the journey on the imagination train that Kipling created in The Jungle Book.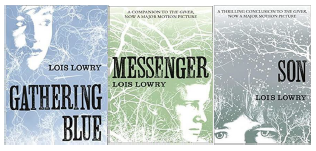 I would like to read: Gathering Blue, Messenger and Son. Ambitious – I know! However, anyone who has read The Giver and was captivated by it, I'm sure would want to read more of Lois Lowry's work.
Miss Crump
I am a big fan of dystopian fiction and thoroughly enjoyed reading The Giver couple of years ago, when I was preparing to teach it for the first time. I like books that make me question what is around me, and this book certainly does that! It is also beautifully written and Jonah's voice will stay in your mind for a long time to come.
I greatly admire Greta Thunberg for all that she has done and continues to do to raise awareness of climate change by confronting those in power. As an autistic woman, she is also a fantastic role model and living proof that our world is so much richer as a result of neurodiversity. I was really interested to see Greta's Story in the year 7 catalogue and hope to get the chance to read it really soon!
Year 8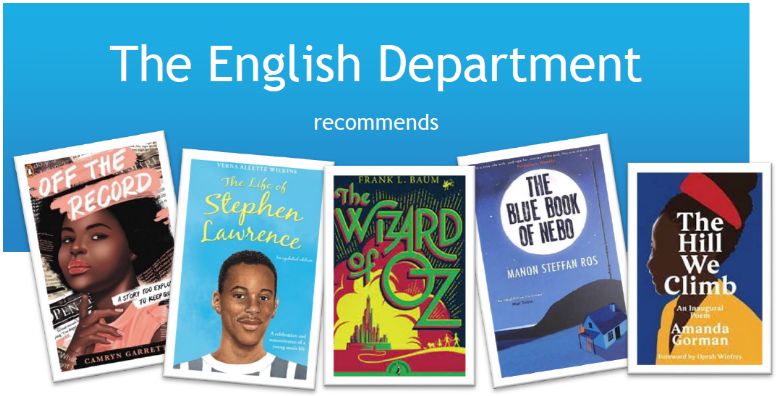 Mrs Bhatt
I read Beck a few years ago when it was on the Carnegie list. It's such a beautiful tale of overcoming adversity and surviving heartache. I was intrigued to read a book that was started by one writer (Mal Peet) and finished by another (Meg Rosoff). I'm pretty sure I know when the story is picked up by Rosoff too! I'm looking forward to reading Climbing the Mango Trees. I bought this book for my mum this Christmas. Madhur Jaffrey has always been, from my childhood, an inspiration. Seeing a woman of colour like my mum on TV speaking so eloquently and being so skilful was an inspiration. I love South Asian food too, so I'll be salivating as I learn more about this cooking hero!

Miss Trout
When I was at school, I adored The Hunger Games series. I used to read it over and over again. I loved that I was reading about a strong female character who could fight her own battles. It also was a brilliant book encouraging me to keep reading into my teens.
I have a niece in primary school and I love buying her books about women who have made history. However, I am woefully aware that my knowledge of women who have made an impact in the world of science is really lacking! I'm looking forward to reading Women in Science to help me understand the amazing discoveries and concepts we have women to thank for!
Ms Doherty
The Hill We Climb - Listening to Amanda Gorman speaking during the inauguration of President Biden was inspiring. Having had the opportunity to study this with Year 9s has brought me back to it again and I recommend everyone to read the poem at
least once.I'm looking forward to reading The Life of Stephen Lawrence. It sounds like a harrowing but worthwhile read giving a voice to someone who sadly had theirs taken away.
Miss Oladogba
I really enjoyed reading The Book Thief. It is so beautifully written and is far the typical World War II narrative.
I'm looking forward to reading The Wonderful Adventures of Mrs Seacole in Many Lands. I have always admired the courage of black female pioneers throughout history. This is a self-told account of what I'm sure will be an inspirational read.
Ms Umara
Stone Cold - I rarely come across a novel that I have read several times and still feel excited to read it! Firstly, the story is a thriller, told through a dual narrative (from two characters' perspectives). It is gripping. You will not want to put it down. You will want to find out what happens next and you will feel the shock to your system as the plot develops.
Ground Zero – I am waiting to read this. I remember the day of 9/11 when I came home to the news footage of this horrific incident. I love reading gritty, emotional novels and have watched several documentaries about what happened that day. I believe this novel provides two characters' perspectives. Apparently, I like novels that do that!
Miss Ishola
I enjoyed reading and teaching 'The Hunger Games'. This book really challenges the reader to think beyond their comfort zone about the "what if" situations that we may only see in movies and other fictional texts. The characters are vividly created, and the pace of the action is controlled perfectly to entice you to quickly get through one page after another; making predictions about what will happen next along the way.
I am looking forward to reading 'Girls think of Everything' to discover the wonderful and innovative inventions created by women from different backgrounds and fields of specialties. I'm always conjuring up different ideas for inventions with my younger sister, so maybe there is hope for us still to make our mark on the world!
Miss Crump
The Bone Sparrow is a beautifully written novel that taught me so much I didn't know about the ways refugees are treated in other countries, particularly Australia. I'll admit I was actually shocked whilst reading this and researching its context when I was writing the workbook. The book is rich in symbolism and full of clever literary devices and the main character, Subhi, is one of those who lives on in your mind long after you have finished the last chapter. If this isn't your class novel this year, give it a try!
I've always been fascinated by Ada Lovelace. She was a pioneer in mathematics and computing and also the daughter of a very famous poet, Lord Byron, who we study in Year 10. I'd be really interested to find out more and was excited to see I, Ada: Rebel, Genius, Visionary appear in the Year 8 catalogue.
Year 9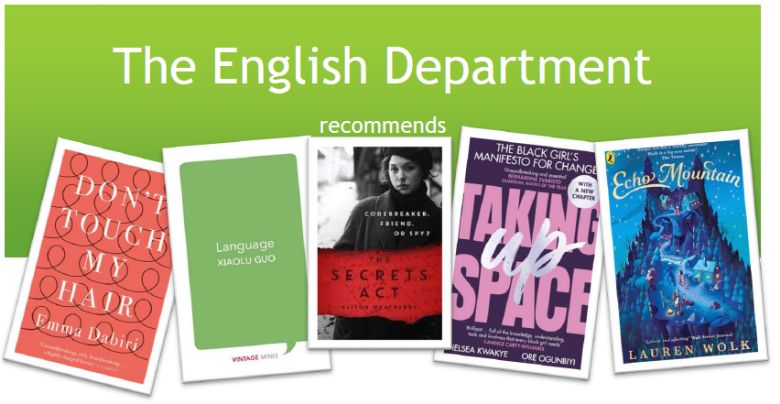 Mrs Bhatt
The Underground Railroad is, I'll admit, a harrowing read. Based on real history, the bravery of the railroaders and the resilience of the escaped slaves was brought to life for me wonderfully and made it well worth the hard-to-deal-with parts. These stories deserve to be told. I'm looking forward to finishing She Speaks. I received this book for Christmas and now I've begun reading it, I'm amazed and saddened at how women's voices have been silenced over the centuries. These speeches are powerful, eloquent and rousing. I will remind myself, and you, that our voices matter.
Miss Trout
If there's one thing that brought me joy as a child it was the musical Oliver! I listened to it all the time so when my parents gave me a copy of Oliver Twist I read it as fast as lightning. I really loved the character of Nancy – she was fascinating to read about.
Another thing I was obsessed with when I was younger was the Billy Elliot film. There was something about the gracefulness of ballet amongst the grittiness of the 1980s Miners' Strikes that just drew me in. I'm really excited to read the novel of Billy Elliot and enjoy the story once again.
Ms Crump
There are some books that change your perspective so much that you can't quite remember what the world looked like before you read it. Why I'm No Longer Talking to White People About Race is one of those books for me. Reni Eddo-Lodge accuses white people of wilfully ignoring the facts about the structures that exist in our society to disadvantage people of colour at every turn, and silencing those who seek to expose and challenge those structures. As a white woman, I found the experience of reading it deeply uncomfortable, but ultimately inspiring, as it clarifies so much about what is wrong with our society and what we all must do to move it forward. Everyone should read this.
One on this list that I'd like to read is The Confessions of Frannie Langton. I love a good psychological thriller and this one has it all: a woman struggling to avoid being defined by her race, class and gender; an unreliable narrator with partial amnesia; a complex structure and a murder mystery. What's not to love?
Ms Umara
I have just started reading Natives by Akala. Having used his talks and lectures in many of my lessons for teaching poetry and plays, it was so nice to pick up this book and feel as though he was speaking to me. Akala confronts issues of race, class and politics and gives his own personal experiences of life. Can't wait to carry on reading this.
We Should All Be Feminists – I read this in what felt like minutes. Every human should read this essay, educating its readers about what feminism is and how we are all effected by patriarchy and we all have the power to change the way we and others see ourselves and the world around us.
Miss Oladogba
I loved reading The Hate U Give as it unapologetically tells a story that is so relevant to race relations and unconscious bias. Although the characters are fictional, Thomas explores an issue that has oppressed the black community for thousands of years.
As a black woman with afro hair, I'm looking forward to reading about the history of black hairstyles and why "it's not just about hair" in Don't Touch My Hair.
Miss Ishola
I first came across Crongton Knights when asked to record some pages for online learning purposes. I immediately found myself laughing along and relating to some moments mentioned. I enjoyed reading Crongton Knights as it combines modern issues and struggles, which we have become all too familiar with today, with banter from one page to another. Although there are some harrowing near misses, this text connects to readers of all ages. The additional jerk chicken recipe at the end of the book is an absolute bonus!
I am looking forward to reading The Giant's House. I do enjoy a love story from time to time, especially if it offers some humour along the way. The use of the familiar school setting to explore themes and characterization, may be of use for when you go on to create your own description or narrative, in the fiction GCSE English Language paper.
Miss Doherty
I first came across Adichie when I read the book "Half of a Yellow Sun" while in university. I remember being enthralled and not wanting to put it down. This is the same with all Adichie's writing I've had the pleasure to read, and I recommend it to all.
I'm looking forward to reading this book of modern speeches. I feel it will be insightful both for the non-fiction GCSE question 5 and to get a chance to read some of the speeches which have left a mark over the last 100 years.
Year 10. 11 and Sixth Form
Mrs Bhatt
How do you make just one recommendation from this list that essentially builds the foundation for literary scholarship? I have read A LOT of these but if I must pick, Wolf Hall is the first book of Mantel's Cromwell trilogy. It's not just her mastery in re-creating the vast, intricate Tudor world of skullduggery or the imaginative dexterity to conceive the omnicompetent and magnificent Thomas Cromwell. It is that every single word, sentence, image is just miraculous in its artistry. She is our greatest living writer, and she is the writer our literary age will be remembered for. I'm looking forward to reading Piranesi. I have enjoyed Fantasy as a genre and Clarke's previous book Jonathan Strange and Mr Norrell. I am intrigued to explore a mystery built around an enigmatic house and strange characters.
The English Department
recommends
Miss Trout
1984 is such a brilliant book. I was really rooting for Julia and Winston's romance, but it also made me think about what influences us and how we understand the world we live in. Read this and enjoy the story but expect to be challenged!
I really want to read Things To Do Before The End Of The World. Maybe it's because I love anything that even hints at dystopian but don't we all sometimes wonder what we'd do if we knew the world was about to end?
Miss Oladogba
Becoming is an autobiography that has really inspired me. If you're looking for an honest, motivational, heart-warming read (written by the wife of a former president!) then choose this. You won't regret it.
I am looking forward to reading Open Water. Like the characters in the story, I'm from South London and Black British. It's likely I'll come across some things that I can relate to.
Ms Umara
I really enjoyed reading A Doll's House because even though it is set in 1879, there are so many ideas that can be related to by a modern day audience. It deals with the fate of a married woman who lacked reasonable opportunities for self-fulfillment in a male-dominated world: a great read for any student of Literature.
I would like to read Burnt Sugar – it deals with many issues such as mental health, parental relationships, illness and in general, explores the struggles of its main character's life. It definitely looks gritty and I love a novel like that!
Ms Crump
There are so many brilliant books on this list, but I've chosen to recommend an absolute masterpiece by my favourite living writer, Margaret Atwood. Set only a little way into the future, Oryx and Crake depicts a world almost unrecognisable after humans have sought to perfect, alter and commodify everything that was once dear to us through genetic modification and environmental destruction. The main character, Snowman, is so exquisitely written by the masterful Atwood that a little bit of him still haunts me nearly twenty years after I first read this. I'm quite envious that you still have the pleasure of discovering this book to come, actually! When you've finished it (and fully recovered, which may take some time), then get to work on the rest of the Maddaddam Trilogy, all of which are literary marvels.
The Picture of Dorian Gray is one of the few classics that I have just never got around to reading. I am fascinated by the idea though: a portrait that takes on the signs of aging so that you yourself remain forever young. The price? Your immortal soul. I'm definitely hoping for the opportunity to dive into this book sometime very soon.
Ms Doherty
There were so many books on this list that I could have chosen but I decided that I would choose one which my English teacher inspired me to read when I was in school. Her love of Pride and Prejudice and Jane Austen inspired me to read it and I always cherish it as a memory.
I'm really looking forward to reading Brick Lane. It deals with lots of serious issues whilst also having a romance thread and I'm intrigued to read what happens.
Miss Ishola
Echoed by the English Department, that there are so many great titles to select from; I have chosen to recommend a novel that I was introduced to as a Year 10 student - Great Expectations. This is a wonderfully written piece of literature that shaped quite a lot of my reading and writing experience. Dickens uses a chain-of-events to highlight themes around fate, self-discovery, and consequences of actions to portray the incredible transformation of Pip. I could not write this without mentioning Miss Havisham: she may not be everyone's cup of tea, but she certainly is a memorable character to read about, base characters on in creative writing pieces, and watch in various adaptations of this text!
I am looking forward to reading The Inspector General to understand the inspiration for JB Priestley's An Inspector Calls. I enjoy making connections between texts to grasp the diverse ways writers can use and adapt ideas, plots and characters for a particular purpose and moment in time.
Sixth Form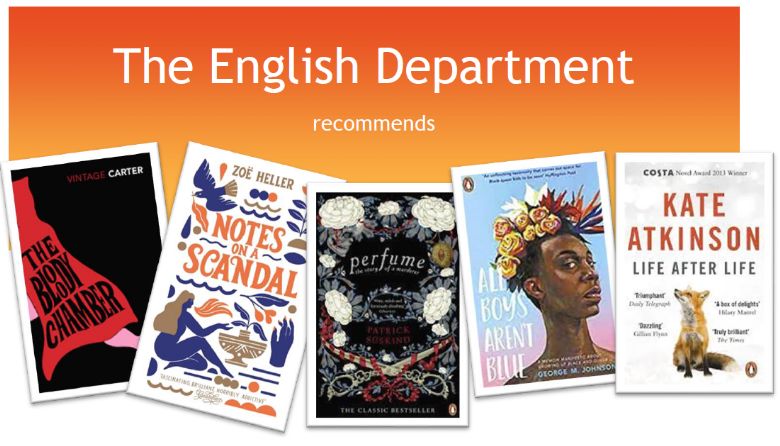 Mrs Bhatt
I've read pretty much all of these. I won't say this is my favourite (because it cannot be - The Kite Runner has one of my favourite lines of all 'For you, a thousand times over') but The Essex Serpent was a wonderful read. Cora is an enterprising female character, the mysterious Essex marshes are intriguing and Perry's descriptive skill is enchanting. One scene was a disappointment for me, though. Everyone I know who's read True History of the Kelly Gang says it's one of the best novels they've read. Can't say more than that. I better read it then!
Miss Trout
I recently read All Boys Aren't Blue. It was a very interesting and emotional read. It really encourages you to think critically about the world - particularly around gender and masculinity. It has some heartwarming moments too.
I've always wanted to read The Bell Jar but I never got round to it. Plath's poetry is intriguing and often seen as autobiographical and I'm curious to see how that would bleed into this novel.
Miss Oladogba
White Teeth is one of my many favourites from this catalogue. Zadie Smith is bold with her representation of what she thought multicultural London was back when the book was written. Reading it now, in 2022 it would be interesting for you to consider what has changed, or remained the same.
I've heard great things about Girl, Woman, Other. It has been on my reading list for a while now and I can't wait to get stuck in!
Ms Umara
Khaled Husseini is one of my favourite authors and I have read all of his novels. Set in Afghanistan in 1975, The Kite Runner, for me, was the most difficult to read - I would recommend all of his novels but let this one be the first. It is about an adult who left Afghanistan as a child and then goes back to confront his past. This novel explores the atrocities of life under the Taliban rule and themes of redemption, guilt and trauma.
Ms Doherty
I only read The Kite Runner in recent weeks and my only wish was that I had done so sooner. I recommend it to all and I look forward to reading more from Khaled Hosseini.
The Bloody Chamber sounds like an interesting collection of short stories and the fact they are dark adaptations of fairytales has me intrigued to give it a go.
Miss Ishola
When I encountered the The Color Purple as a 6th form student myself, I was absolutely intrigued by the plot and the characters. Alice Walker cleverly depicts the struggles of African American women, and the role that religion, resilience, love and strong bonds within relationships play in the order to survive trials faced. I was pleased to have read this text first, as it made it easier to access the dystopian text, 'The Handmaid's Tale', later in my studies. The use of the epistolary style is one I find to be very effective in literature.
I am looking forward to reading Search Party by George the Poet. I have been a fan of the works of George the Poet since he came on the poetry scene, and am inspired by the way he communicates ideas, issues and passions through his lyrical style.
Ms Crump
It is almost impossible to choose one from this list of superb books, so I've chosen something that I read when I was in the sixth form myself. The Wasp Factory is a dark and disturbing novel exploring the depths of human depravity, but beneath the surface it asks more questions about the human condition than it answers. Exquisitely structured, it has haunted me for several decades and writing this only reminds me that I need to re-read it again very soon!
One from the list that I have never quite got to, but has been sitting on my shelf for a VERY long time, is Perfume. I really like literary historical fiction and this one sounds utterly compelling!