Year 9 Geography/ History options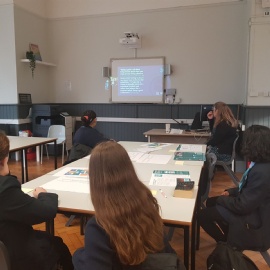 In Year 10, the students' curriculum will change as they only study the subjects that they will continue with to the end of Year 11. This means that:
The Extended Curriculum carousel of subjects (Art, Citizenship, Computer Science, Music, Religious Studies and STEM) will end.
Students will opt to continue with either Geography or History at GCSE level.
The other subjects within the students' curriculum continue unchanged.
Deciding between Geography and History
The process of choosing either Geography or History started on Thursday when students had an assembly explaining what they need to do. It is an important decision, and you should discuss your child's preference with them before they make their decision. There are materials to support this:
Subject Options videos
These are presentations by the Heads of Geography and History which explain the courses and the potential future career possibilities that each subject offers. They can be found on the school website in the options section at: https://www.chsg.org.uk/year8-options

Geography: https://www.youtube.com/watch?v=GhLiP50oPf8
History: https://www.youtube.com/watch?v=1z3Bkk_o2bI

Subject Information sheets see links below
Submitting your child's preference
This will work in the same way that subject options worked in Year 8, using the online form linked in this email. The form needs to be returned by Monday 25th June. It contains three possible options: History, Geography and 'No Preference' for students who are equally happy to study either subject. The form also gives the opportunity to add any comments that might be useful when allocating subjects.
As with Year 8 options, we will do everything we can to ensure that students are allocated to their preferred subject, but this can be dependent on the staffing we have available.
If you have any queries about the process please contact Miss Golightly in the first instance.
If you have any subject specific queries please contact Mrs Norman, Acting Head of Geography (snorman@carshaltongirls.org.uk) or Mr Godman, Head of History (sgodman@carshaltongirls.org.uk).