Remote Learning - 9th October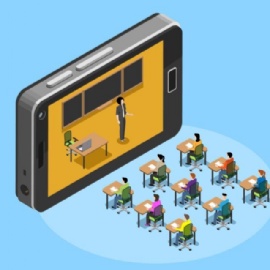 Every day we are doing everything we can to ensure your daughter receives the best education possible.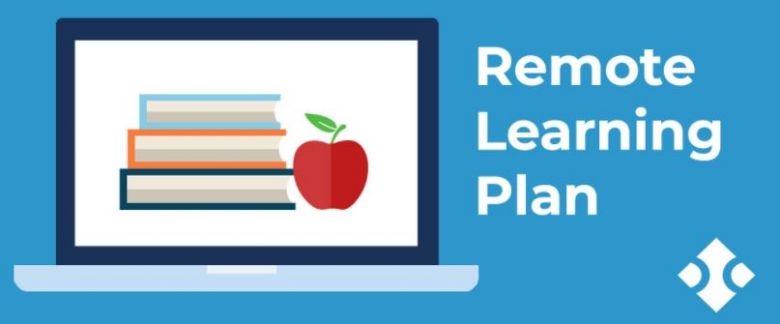 This includes ensuring remote learning can be offered should there be a need for students to isolate at home for any reason. In order to ensure everyone is fully prepared to work remotely from home using the school's online platforms, we will be operating a trial afternoon of remote learning on Friday 9th October.
On this day students will be expected to attend school until lunchtime. After lunch they will be registered and then dismissed by teaching staff via their usual gates. Once dismissed, students will be expected to travel home immediately and complete the remainder of their lessons that day from home. The work for these lessons will be detailed on Show My Homework. (If a student needs support with their learning they can email their subject teachers for help using their school emails via Office 365, a link for which can be found on our school website). Additionally, students will be required to attend an online tutor session on Friday 9th October, held on Microsoft Teams.
The following dismissal times will ensure students make their way home appropriately on this day, adhering to social distancing. Also detailed below are the times for the Microsoft Teams tutor sessions: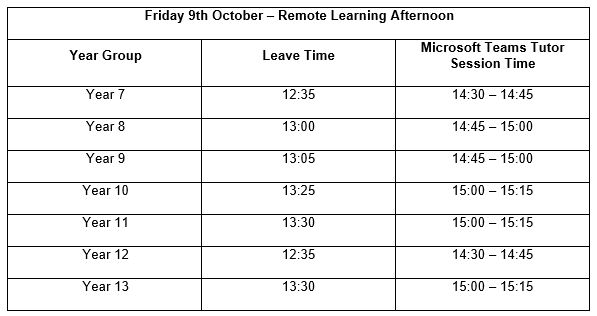 By Wednesday 7th October, all students will have received tuition to ensure they understand how to access all of our online platforms. Attached is a support guide, should your daughter incur any issues during this trial afternoon. Microsoft Teams can be accessed at home via a computer/laptop, tablet or smart phone. If you do not have access to any of these devices at home, in order to trial your daughter's initial tutor session on Microsoft Teams on Friday 9th October, please contact the school office.
If your daughter is at home self-isolating on this day she will still be expected to complete her school work remotely and attend the online Microsoft Teams tutor session.
Registers will be taken and failure to complete school work remotely and/or failing to attend the online tutor session will result in an automatic 30 minute detention after school.
A trial afternoon of this kind is essential to ensure your daughter is able to access her education remotely from home. I am sure you can appreciate that we are doing all we can to prevent disruption to your daughter's learning and to maintain our high standards in the event of a year group or full school closure.
Thank-you in advance for your support.
Mrs A Driver, Assistant Headteacher