Year 7 Parents' Information Evening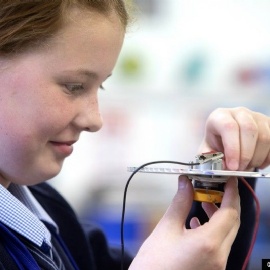 Sadly, due to the restrictions of the Covid-19 pandemic, we are unable to have our usual Year 7 Parents' Information Evening in school scheduled for Thursday 24th September.
In place of this please see the following three videos below.
The first video is from the Headteacher Mr Devenney stating the vision that he has for the school and the ethos we promote as an educational establishment that specialises in the teaching of girls.
The second video is from the Assistant Headteacher and Raising Standards Leader for Year 7, Mr James. His video will explain the 'Knowledge Rich' curriculum students study whilst they attend Carshalton High School for Girls and the ways and reasoning behind how we report on student progress to you throughout the academic year.
The third video is from the Head of Year 7, Miss Stanley and the Year 7 Tutor team introducing themselves to you. Their video comments on the excellent start to the year the Year 7 students have made.
Mr Devenney, Headteacher, talks about the Class of 2027!
Mr James, Assistant Headteacher, SENDCo and Raising Standards Leader for Year 7 explains the knowledge rich Year 7 curriculum and how students are assessed.
Miss Stanley, Head of Year, introduces her Assistant Head of Year and the Year 7 Form Tutors.
If you have any further queries or issues relevant to your daughter's education then please, in the first instance, do not hesitate to make contact with your daughter's Form Tutor via email or by calling the school office on 020 8647 8294.