Face Coverings in School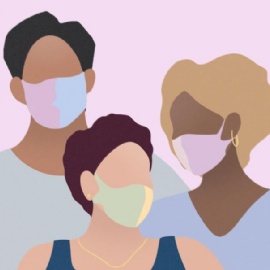 As you may be aware, the Government has this week changed its advice regarding face coverings in schools.
Previously the guidance stated that the wearing of masks was not necessary in any school. This has now been updated as follows:
The World Health Organisation published a statement on 21 August about children and face coverings. They now advise that "children aged 12 and over should wear a mask under the same conditions as adults, in particular when they cannot guarantee at least a 1-metre distance from others and there is widespread transmission in the area."
Nationwide, the government is not recommending face coverings are necessary in education settings generally because a system of control, applicable to all education environments, provides additional mitigating measures. Schools and colleges will have the discretion to require face coverings in indoor communal areas where social distancing cannot be safely managed, if they believe that it is right in their particular circumstances.
On the basis of current evidence, in light of the mitigating measures education settings are taking, and the negative impact on communication, face coverings will not generally be necessary in the classroom even where social distancing is not possible. There is greater use of the system of controls for minimising risk, including through keeping in small and consistent groups or bubbles, and greater scope for physical distancing by staff within classrooms. Face coverings can have a negative impact on learning and teaching and so their use in the classroom should be avoided.
Currently Government advice is that for schools in Sutton, where there is no local lockdown, there is no requirement to wear face coverings and GLT schools have taken a number of significant precautions (details available in our guidance notes and on our websites) to minimise risks. Therefore, in line with the above government guidance, we will not be making the wearing of masks mandatory in our schools.
We recognise, however, that some students and staff will feel more comfortable wearing a face mask, particularly in the corridors and when queueing for the canteen, and we will be allowing and encouraging this. We are not encouraging students – who will be in consistent groups or bubbles – to wear face masks in classrooms, but some may choose to do so. In any case we reserve fully the right to ask a student to remove a mask where its use is having a negative impact on learning and teaching. Teachers – who will have to move between bubble groups each day – may well choose to wear a mask in the classroom.
Students and staff who choose to wear masks will be responsible for their hygienic storage and disposal in accordance with the school's health and safety procedures for Covid-19.
Please note that masks must be plain in appearance - no logos or motifs - and must be worn appropriately and sensibly. Any student intentionally misusing a mask will be required to take it off.
We will of course review this decision in light of any updated government guidance and any changes in the local situation.
Jennifer Smith, CEO