Lockdown by Sixth Formers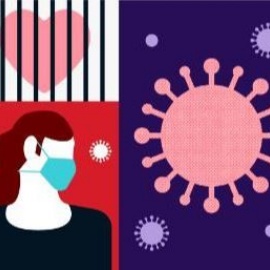 Some of our Sixth Form students reflect on their lockdown experiences.
Life Under Lockdown
Sophie – Year 13

School finished abruptly for all of us at CHSG in March, but it's certainly saddening to know that after almost 7 years at the school, I won't be coming back.

This time has been uncertain for us year 13s, as we are not only not sitting exams this year, but it is also uncertain whether university courses will be resuming as normal in September. Despite this, I've been keen to keep myself busy during lockdown.

As a member of the Air Cadets, I have been participating in online nights which include lessons and quizzes. I have also used this time as an opportunity to focus on my health and fitness by being more active- whether it be walking, cycling, or doing home workouts!

It was definitely not easy to adapt to lockdown, but I am keen to say a proper goodbye when I can!
Giovanna Year 12

After the initial shock of the world stopping wore off, many of us found inventive ways to raise morale and to keep boredom away while isolating from friends and family. Lockdown has shown us more than ever that we do rely on technology a lot, especially as it has been a way to keep us in touch with each other and a way to share what life has been like during this stressful time.

Many of us took this opportunity to develop new, healthier hobbies and a healthier lifestyle (such as exercising at home and eating healthy, improving skills such as cooking/baking), while at the same time, still thinking of the future as we got more informed about post-18 opportunities and applying to university all through the help of live webinars, virtual open days, online courses and even the school itself. There have also been a series of online lessons for various subjects where teachers and students can get some normality as they learn new things or build on previous knowledge.

Although things are slowly getting back to normal – or we are getting used to this new way of living – none of us can forget to stay safe, remember social distance and try to be as optimistic as possible during these difficult times.
Saher – Year 13

Lockdown has been a strange time for everyone, but it has given us a chance to spend more time with family (possibly too much?

During this time, I have been taking well needed time to reflect and relax. Baking a lot more has been nice as I'd never had the time before and generally I've been busy in the kitchen learning to cook new things and have been making dinner a couple of times a week as part of my parents' mission to get me prepared for university. I have also joined a couple university group chats which have been a great way to socialise and meet new people virtually. There have been lots of Zoom calls and quizzes too. Group Facetimes with family and friends have been keeping me sane (and were very necessary for Eid this year) as well as being busy with my little sister at home.
Zaahra

I have fallen back in love with reading books of my own choice and not just for a personal statement or an A level textbook. Some of my favourites that I have read and reread during this time are White Tiger, To kill a Mockingbird (for the hundredth time), The Secret History and I have just received a delivery which includes books that talk about the oppression of black minorities. It is important that we are not naïve or ignorant about these extremely important matters and educate ourselves, others around us and in our school community, of the long lasting and long term changes that need to occur for a more just and equal society.

I have listed some books, podcasts, and things to watch… all these things you can buy or even find online in order for us to better understand the context behind and the significance of the Black Lives Matter movement:

Books:

Watch:

13th
When they see us
Dear White People
12 years a slave
The Help

I hope working from home isn't too bad and that you and your families are well and safe. 😊