Black Lives Matter - A Student's View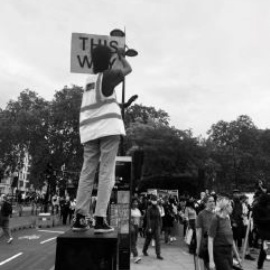 I have had the privilege of attending and volunteering at Black Lives Matter protests across the central London area.
These protests were ignited after the murder of George Floyd, an unarmed black man who was accused of a nonviolent crime. His death was the straw that broke the camel's back in black communities worldwide; many began to reflect on the injustices they have faced purely because the colour of their skin.
Travelling to the protest I felt nervous after seeing the violence in the USA. The energy was completely different. The feeling of being surrounded by brothers and sisters from all races, backgrounds, sexualities, ages and religions all grieving, all hurting together was, and still is, completely overwhelming and indescribable.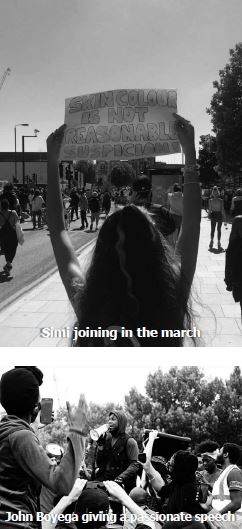 After standing listening to a speaker for less than five minutes a young girl who was around seventeen came and offered my friend and me a bottle of water and gave us a rights card.
This act of kindness inspired Simi and me to purchase water and cups and hand them out to members of the public. Walking through the streets of the city that I will always see as home, seeing people stopping, filming, cheering, beeping horns and showing so much support for the movement reduced me to tears at points. Why should we have to be fighting for rights? We ended the march at Grenfell tower. Seventy-two people lost their lives in the fire and yet no one has been prosecuted.
I would urge everyone reading this to do their own research about the Black Lives Matter movement and look under the #LDNBLM and #LDNBLMMOVEMENT to see updates and sign petitions. In the twenty-first century there is no excuse for ignorance with the masses of information we have available to us at the click of a button. Being silent about these matters only supports the oppressors.
Kya - 11HL2