Head's Message 22nd May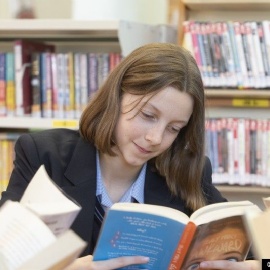 The school will remain open throughout the half-term (except Bank Holiday Monday) to support key worker parents and those who need us most at this time.
The school office will be open on Tuesday only. If you need additional support outside of these times details can be found here on our school website
Reconnect Curriculum
You will have no doubt seen the correspondence from our CEO, Jennifer Smith, regarding the overarching curriculum principles for the GLT schools post half-term. I thought it would be useful to offer more guidance on how Carshalton High School for Girls will be carrying on with our curriculum during that time.
We have been working hard over the last six weeks to create and develop the best possible curriculum and resources we can for the next half-term. Subject specific booklets have been created for all year groups to carry each and every students' learning forward over the next 7 weeks. These booklets will be available electronically from Friday 5th June and we will be posting them out to every student at the end of the first week back. I am sure you will appreciate this is a very large logistical operation and our intention is to have hard copies of all the booklets with all students by Monday 8th June. Therefore to allow this to happen we will carry on with work being set on Show My Homework for the first week back.
From 8th June onwards students will use the booklets with daily guidance and instruction shared through Show My Homework. Staff will also be providing tutorials via YouTube. All departments now have their own channel and the videos will be uploaded as required throughout the term. There will not be videos for each and every lesson as some will cover a wider number of lessons in one video. New material, quizzes and activities to consolidate learning will be combined in the booklet and students are expected to complete all their work in the booklet. There will still be an element of support and guidance required from you to help understanding. These booklets will be handed in to teachers when students return to school for assessment and identification of gaps in learning, therefore they must be completed.
Currently we are running Microsoft (MS) Teams with Year 12 students only as a drop-in session; this will be extended to Year 10 after half-term. These drop-in sessions are designed to remedy any misunderstandings or to help answer any queries; they are not a formal taught lesson but instead are subject surgeries to help keep learning moving forward. More details on this will follow in due course for Year 10.
We will continue with the same timetable that we started after the Easter Holidays and we will continue to send you information on the content that will be covered in each subject that week. As before, please do not be hard on yourself or increase anxiety if your daughter cannot access or complete the work immediately. These booklets allow you to work at your own speed and develop learning at the time that suits your daughter best. It is however important that they are completed to the best of their ability. The Department for Education has sent guidance for parents/carers on how to support learning at home. The information can be found using this link: https://www.gov.uk/guidance/help-secondary-school-children-continue-their-education-during-coronavirus-covid-19
Registration, Assemblies and Student Newsletters
From Tuesday 2nd June we will expect students to register their attendance each day online. Mr Conduit-Smith will be in contact in due course with the procedures for this. It will be a short, simple activity that helps to keep us informed of those who are accessing the materials and resources electronically as well as those who are engaging with the work set. Assemblies will continue to be recorded and placed on our school website with the link on the weekly student bulletin which we will also continue to send. These will be sent to your daughter's school e-mail address and are relevant to the individual year groups, so it is important that the girls connect with these.
Contact with Home
Tutors will continue to make contact with their tutees after half-term. They will also talk to you about any concerns you have and how you feel your daughter is getting on completing the work set.
Key workers
If you are a key worker who is returning to work and you feel your daughter should now be in school please contact the school office at office@chsg.org.uk. Further guidance will be given to you once you make contact.
Year 10 and 12 returning to school
As yet we have no further guidance from the Government regarding Secondary School students returning. With the limited guidance we have been given we have been working on various plans in the background; the primary principle of any reopening being to ensure it is safe for the students and staff to return. We await details from the Government and SAGE regarding health and safety protocols, the role of children in transmission and any other guidance that we can take on board. We are also awaiting a decision on 28th May concerning schools in general. We do now know that parents will not be penalised should they decide not to send their daughter into school and we are doing all we can to ensure that our curriculum is highly effective should you decide this is the best course of action. I will continue to keep you posted but I assure you, we are as ready as we can be at this stage.
Free School Meals
I have mentioned this previously but it is worth repeating. We have instructed a new company to undertake our Free School Meals checks. If you already receive Free School Meals you do not have to do anything. However, if you feel you should now be in receipt of Free School Meals please follow the link below. There is specific criteria and the system will determine whether you are entitled or not and let the school know. I encourage everyone to check just in case.
https://www.cloudforedu.org.uk/ofsm/sims
Fundraising
My thanks to everyone who has donated and given money to our appeal. So far we have donated our science goggles to St Helier and Epsom Hospital and created over 600 PPE masks that are being used in care homes around Sutton and Carshalton. We are also currently in talks to support both Sutton Night Watch and Sutton Women's Centre. All of these are truly deserving of our support at this time and we thank them for all they are doing. The fund is still open and you can still donate using this link: https://www.gofundme.com/f/chsg-support-our-key-workers?utm_medium=copy_link&utm_source=customer&utm_campaign=p_lico+share-sheet
Finally from me, I really did not expect my first year as Headteacher to involve dealing with a global pandemic! They don't really give you a lot of training for this one and I never once thought of this as an example during interview! However, I am very grateful and proud of our students for the way they have engaged with the work so far and the enthusiasm for their studies that I routinely hear of. This isn't just about the high flyers though – this is about all of our students making their own progress in their own way, every day. I am also grateful to the large number of parents/carers who have contacted the school, so enthusiastic to tell us how well we are doing, to support us and to give us advice and share ideas on how we can adapt moving forward. Ultimately, that's all we can do at these times.
Have a lovely half-term.
Take care
Mr M Devenney, Headteacher