Summer Term Study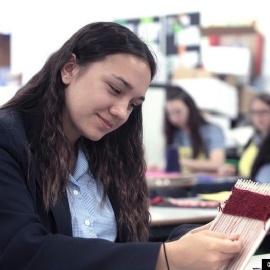 Over the five weeks up until May half-term students will have a reduced timetable and all students in a year group will have the same lessons.
The reduced timetable will allow for more quality work to be undertaken and for there to be less strain on home.
Our feedback from parents has been very positive about the work we have set but we must ensure that our programme is sustainable over a longer period of time.
The focus over the first five weeks of the Summer Term will be on revising the content that has already been completed, either this year or during the course of study. We do not believe there is anything to be gained from students studying new content at this point, regardless of the year group. Instead the benefits of putting a revision 'checkpoint' in now for each year group will allow for students to revise work that has been set and therefore develop their confidence and embed knowledge in that subject area. This is particularly the case with our Year 10 students who will certainly have less time to revise next year.
Work is set via Show My Homework, labelled with the day and date and must be completed on that day. Students must retain this work and save it somewhere safe as they will need it in the future. Please note there will be no work set on Monday 20th and Tuesday 21st April. We do not underestimate the role parents are playing and we are realistic about the experience the girls are getting so please:
do not become anxious if all is not going to plan. We can only ask that you and your daughter do your best.
remain positive and encourage your daughter to keep working – this work will be needed in the future and they will need you to keep them motivated at times.
see this as a positive opportunity to spend time together.
ensure there is a routine and where possible a dedicated workspace. This helps distinguish between the space for learning and the areas for relaxation.
take regular breaks.
don't be afraid to move them on if your child is struggling with a task. The task can be revisited later if needed. The BBC Bitesize website is a good resource, and free!
Although there will be no examinations for both Year 11 and 13 it still important that learning continues over the next weeks and months prior to the next stage of their lives and careers. More details will follow in due course but we will be providing the following in these year groups:
Year 11 students:
All A Level and BTEC subjects will be adding information and subject content for the first half-term of their subject in a centralised area. Students will be able to start studying early, undertake key reading and also get a flavour of what each course is about. All subjects will be available so students can start those that they are certain they want to take or experience those that they are uncertain or unsure about.
Year 13 students:
Curriculum Leaders for the subjects you are studying will happily guide you towards some additional reading should you wish. Please contact them and they will advise.
Year 11 and 13 examinations
The examinations regulator Ofqual have just announced a consultation on their proposal of centre assessed grades for the Summer 2020 examinations. Nothing is set in stone yet on how the process will work. The following link will give you information on the consultation process and as soon as we know the final outcomes we will be in touch. We will be working with the other Secondary Schools within the area to ensure our grades are moderated and validated both consistently and fairly, so you can be assured that we have been consistent across the Borough. Please remember that regardless of the methodology used we will not be able to provide you with the grades that have been submitted before the official results day.