EAL London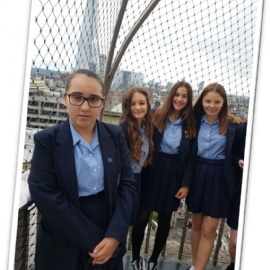 At the end of term Mrs Shelton and Mrs Wheeler took some of the English as an Additional Language students on a trip to London.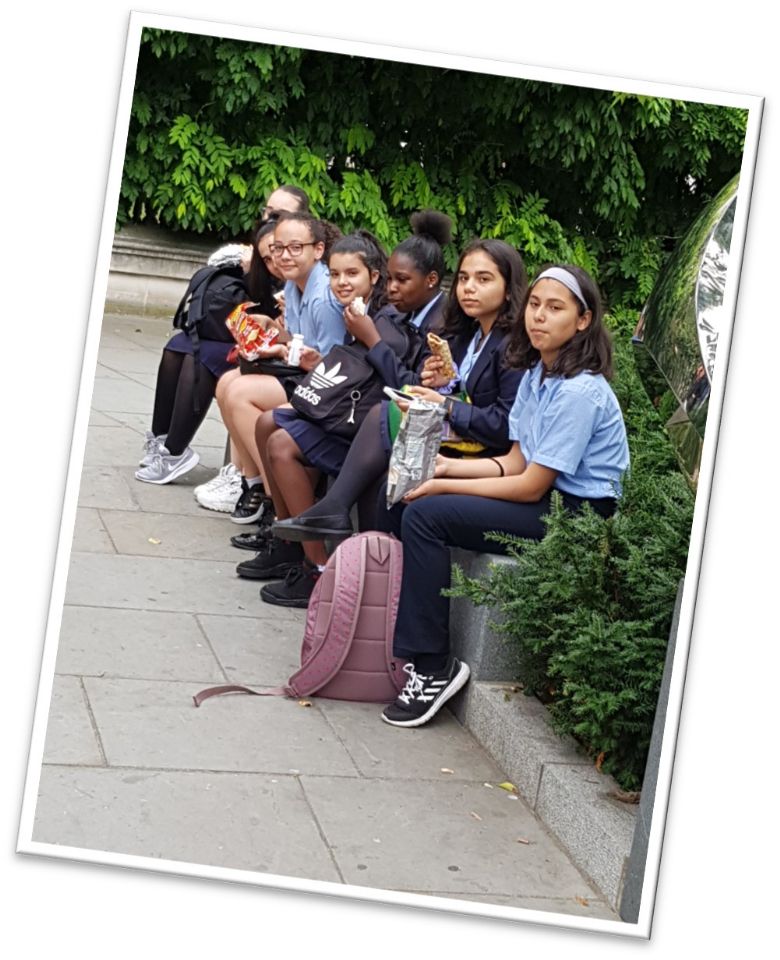 Below are three of the students accounts of the day.
On Monday 15th July we went on a trip to London. In the morning at 8.40 we met in Mrs Shelton's room and from there we walked to Carshalton Station. First we travelled on the train and after that we continued by tube from Victoria Station to the Monument. From the tube station we had to walk to the Monument. While we walked through the modern streets of London, there were different business buildings and beautiful decorated shops and restaurants.

Finally we arrived in front of the Monument, on the attraction was written the story of the building. We had to climb 311 steps to the top! It was hard but the panorama of the whole centre of London was like a waiting present for us.

After this adventure we went to St Paul Cathedral but we only went inside for a few minutes because we didn't have tickets for it. There were benches next to the cathedral and we sat to eat, drink and get some rest. Then we went across the street and walked over the Millennium Bridge and from there we saw Shakespeare's Globe Theatre.

Next thing that we did was to travel with boat up the river Thames, as we sailed we saw many attractions like Big Ben and London Eye.

The final destination was Covent Garden. There were many different shops of famous designers and expensive restaurants. We walked through the beautiful streets filled with crowds of people. At the end we watched a street magicians' show. They jungled with swords and did some tricks. From there we went back home.

This journey was perfect end of the school year. Everyone were so happy and excited about it. We took many photos and videos, we laughed and had a great time.

Deni and Stefani (Year 10)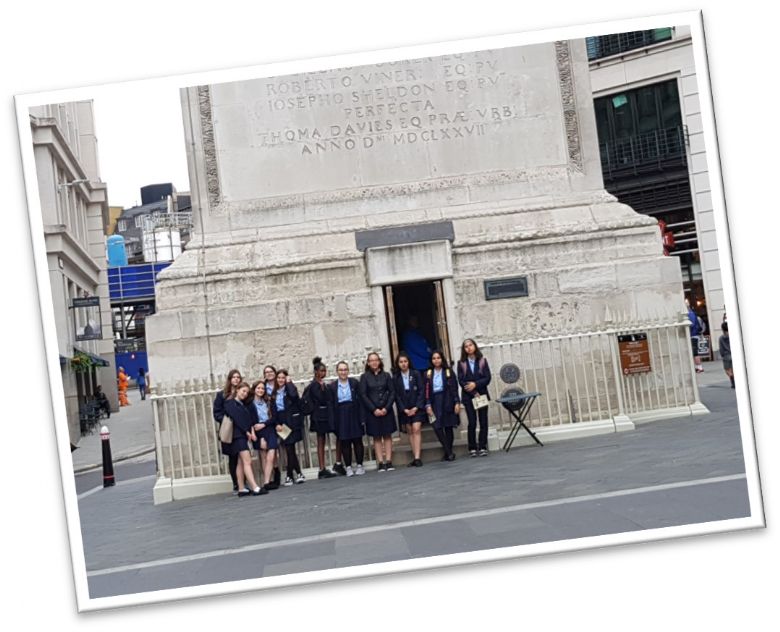 On 15th July, we went on a trip to London. We met in C15 at 8.40 to walk to Carshalton Train Station. We got on the train at 9.20. It took us around an hour to get there. We were going to The Monument but we found out that The Monument stop was closed. So we got off the train at the next stop, and walked to The Monument.

It was so high that I would have to lay my head back to see the top of it. We left our bags at the entrance. I took my phone with me to take some photos. We started to climb up the stairs. It took us almost 10 minutes to get up there! We climbed 311 steps! My legs were aching and it felt like I was going to fall down but I think it was worth it. We reached to the gazebo, and I looked around. It was so beautiful. You could see the whole London!

The Monument was started in 1671 and was completed in 1677, so it is 348 years old now! We took lots of photos, then we went back down. It was very tiring, and after we came down my legs were shaking. We went up and came down 622 steps all together.

After The Monument, we walked to St Paul's Cathedral, but we couldn't hang out in there because Ms Shelton thought that it was free to have a look but it wasn't. So we just saw the inside from the entrance for a minute or so, then we sat down on the benches outside of the Cathedral to eat because we were all hungry.

When we were finished with eating, we walked to the 'wobbly' Millennium Bridge. It was quite crowded. Then we went down to the riverside and waited for the boat to the Embankment. We saw the Shakespeare's Globe while we were waiting there but we didn't go in, just saw it from the outside.

The boat arrived and we got on it was really cool. The Embankment was just one stop away. I wish we could have travelled further on the boat but we had to get off.

We walked to Covent Garden and Ms Shelton told us to meet up at 2pm in the plaza where some people were doing shows. Covent Garden was my favourite part of the trip. I went to Starbucks with my friend and got a drink. Then we hung out in Covent Garden for half an hour.

There were so many things to look. We tried some sunglasses and looked at some jewellery. There were people singing and doing magic shows downstairs where the restaurants were.

For the last 20 minutes I went to the Apple Store with my friend. We played some games on the phones and examined some other Apple products.

Then. When it was around 2pm, we went to the plaza, but since not everyone was back, we sat down on the sidewalk and watched the magic show. I was so curious about the next thing the magician was going to do, but it was time to go.

We walked to the train station, got on our train to Carshalton, and travelled for approximately an hour.

It was really a fun day.

Thank you Ms Shelton and Ms Wheeler for this trip.