MFL Spelling Bee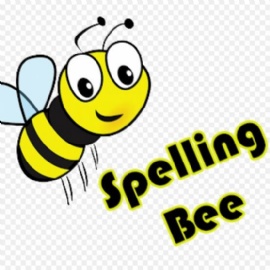 Every year our school takes part in the Foreign Language Spelling Bee competition.
Our Year 7 students first compete in their lessons. The winners go to a school final. A student representing each of the three languages that we learn (French, German and Spanish) takes part in a regional final that is held in London.
Below is the account of Sophie, one of our most brilliant linguists in Year 7, who represented us in the regional final earlier this year. We could not be more proud of her effort and achievements, as well as of all the students that have taken part in this demanding competition.
"On 20th March 2019 I went to the Spelling Bee competition along with Mr Castro, my mum, Toju and Samiha. I was spelling German words, Toju, Spanish words, and Samiha, French words.

We went on a train from Carshalton to Blackfriars then the tube to Hornchurch and finally caught a bus to the school the competition was being held at. It was a long journey and took us over 2 hours to get there!

On the train and tube, we spent a long time testing each other so we were ready to compete against the other schools. Once we got to the school, I started to feel really nervous. We sat in the hall and were taken to classrooms where we competed. We had to stand up in front of a lot of people and the caller said a word which we then had to spell in the language we are studying, we had a minute to spell as many words as possible! When I was called, my heart was beating rapidly.

Once the German spelling bee part was over, I went to the cafeteria and waited a long time for Toju and Samiha to finish. There was a tie breaker in Spanish so Samiha and I went to watch it. When that was finished, we went back to the hall to hear the results. Sadly, none of us made it through to the final, we were disappointed but felt really proud we had taken part in the competition.

The competition was over so we headed back to the bus stop to make our way home. When we got to Blackfriars we had to run for the train as we only had two minutes to catch it luckily, we made it!

It was upsetting that none of us got through to the final but it was an amazing experience!"

Sophie - 7RD1