School Uniform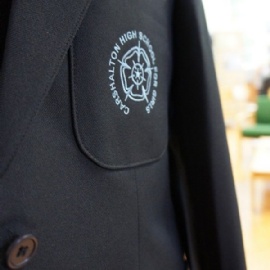 As warmer weather approaches, this is a reminder to clarify what we ask from our students regarding school uniform in the Summer Term:
The jumper is optional, not the blazer. Students can remove their jumper but must be wearing their blazer around school as well as to and from school
Sunglasses are not permitted
Skirts need to be worn at the correct level as per the uniform policy
Please ensure that your daughter brings a water bottle to school daily which she can fill up during the day. It is very important for students to stay hydrated.
Supply of School Uniform
The School outfitters: 'Trutex', 140 Central Road, Worcester Park, KT4 8HH. Tel: 020 8337 6230.
Opening Hours: MON-SAT 9.30-5.30
Trutex provide a whole range of uniform at competitive prices, enabling everything to be bought in one visit. You can shop online by clicking here.
Items that must be brought from our suppliers are blazer, pullover, blouse and PE kit. All other items can be purchased from another supplier as long as they meet the school uniform criteria.