Virtual Open Evening & Tours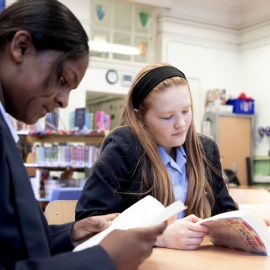 Our VIRTUAL Open Evening will be live at 5.30pm on Thursday 23rd September.
We will not be holding a face-to-face event this year due to Covid, in order to protect our school and our community.
Watch this space for full details!
School Tours
We are pleased to announce we are hosting open morning tours starting on Tuesday 21st September, every day from 8.45am to 10am until Friday 8th October.
Each family booking is limited to a maximum of 3 tickets which may include the Year 6 student.
The tour, led by our Student Ambassadors, will commence at 9.00 am sharp, unfortunately late arrivals will NOT be able to join the tour.
Following your tour of the school a member of the Senior Leadership Team will be available to answer any questions.
Please note there is no onsite parking available. (If you have special requirements for parking at the school please contact the school office 020 8647 8294)
We look forward to welcoming you to Carshalton High School for Girls