Spring Term Curriculum Overview (1)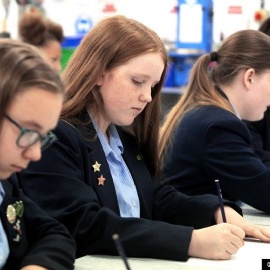 We want to keep parents and students informed about what students will be studying each half term.
Evidence suggests that regularly discussing and reviewing school work with adults at home helps students to memorise the things they have learned, as well as making their future learning more secure. The greatest impact occurs when this happens routinely.
Positive and supportive conversations that have a tone of shared learning are the goal. We appreciate that this might be a process that grows over time as routines get established! Useful things to ask students could be:
Enquiring about content: 'What did you learn in (subject) today?'
Explaining key content: 'Tell me about that', 'Can you explain that to me?
Reviewing the learning process: 'Did you like doing that?', 'What did you enjoy?', 'What activities did you find tricky?'
The overviews (below) contain links to resources for parents to read/watch to inform these conversations. The current circumstances of the school closure also mean that we can expect students to turn to parents for immediate advice on school work more than would normally be the case, so hopefully this will support parents with this situation too.
Click below for the curriculum overview for each year group.
Mr Sambrook, Assistant Headteacher