Pankhurst House - Red

Motto:
One person can bring equality to a country and a country can bring equality to a world: Unus aequitatem patriae ferat, patria mundo.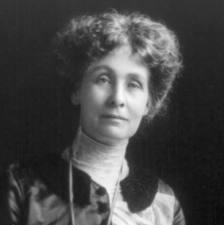 Miss Robinson is the head of Pankhurst House. The house name was decided by the students during the launch week in September 2010. The students had a number of choices which were all focused around inspirational women. The Heads of House decided to adopt this theme as it is important that the students at CHSG recognise female achievement. After placing their vote's students of Red House chose to name their house after Emmeline Pankhurst.
Emmeline Pankhurst was an English political activist and leader of the British suffragette movement, which helped women win the right to vote. In 1999, Time named Pankhurst as one of the 100 Most Important People of the 20th Century, stating: "she shaped an idea of women for our time; she shook society into a new pattern from which there could be no going back".
The Focus for Pankhurst is International and this year we are fundraising for our own charity 'Build Africa'. Build Africa is way for students in Pankhurst to learn about different parts of the world. There are so many setbacks to learning in rural African schools. Education is the key for thousands of children, without it they have little chance of getting a good job. Without classrooms children get sent home in bad weather, without desks they have to sit on the floor which makes learning difficult and without books they cannot learn.
These are the obstacles that we might be able to overcome, by understand the daily challenges that Kenyan school children face and promoting and getting involved in this year charities. For example; International Food Day ; International Mufti Day; House festival- International music; Red house fair ; Flash Mob/Dance ; Flag making ; International Sports, International fashion show and many more.
Money raised could provide...
£300 would buy 80 textbooks for children desperate to learn, £800 would pay for teachers to receive training on up to date teaching methods, £1,800 would buy 50 desks so that children no longer sit on the floor, £3,000 would pay for the construction of a four-door latrine block, £7,000 would provide the school and community with clean, safe water from a borehole AND £10,000 would pay to build an entire classroom.
We do house charities to give back to people in our local communities and internationally, so students can improve their organisational skills, interpersonal skills and communication skills. Learn to be a team, by working with others in order to achieve a goal. For each event the students are involved in they will receive a participation card worth 10 points.