Visual Arts Year 9 GCSE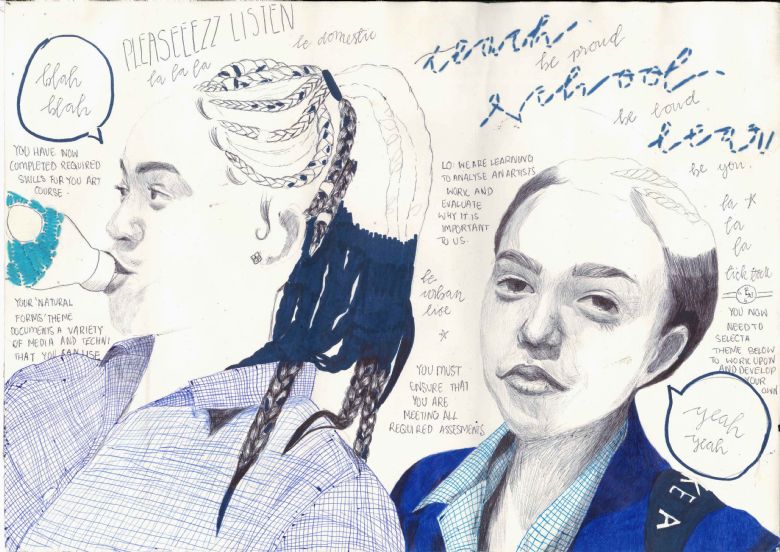 Students study for the AQA GCSE qualification. At Key Stage 4 students develop skills in Art, Photography, Textiles and 3D forms for 6 week blocks experimenting with a range of new materials and techniques. This is based around a set theme for the year such as 'Natural Forms'. All work completed in Year 9 counts towards the students' final GCSE grade.
At the end of Year 9 students are given the opportunity to work to their strengths and choose the subject areas within Art that best suit them. Students are given the flexibility to choose one subject area and be entered for that area eg. Textiles, Photography, 3D or Art, OR they can be entered for the Art and Design unendorsed qualification which covers all disciplines within the arts.
At the end of the course in Year 11 students will come out with one GCSE and are expected to submit:
60% Coursework – 2 distinct portfolios of work
40% Exam – A theme that has been given, with
preparation time followed by a 10 hour exam.
Students will end up with a minimum of 3 portfolios of work, critical studies, mounted work and final outcomes.
Portfolio 1 – Coursework theme 1
Portfolio 2 – Coursework theme 2
Portfolio 3 – Exam
At the end of Year 9 students will be able to choose their chosen subject of focus to work on in Year 10. They will be given a list of themes and be expected to start work on this theme over the summer holiday leading into Year 10.
For each project students are marked according to assessment objectives. They must have Primary sourced images and objects to draw from as well as work in a range of media and refine techniques. Students must explore Artists work and make clear links to their own work.
Each section is marked out of 20 marks and is worth 25% of the overall grade.
Course Books and Equipment
Students will be given worksheets at the start of the course that outline all expectations and include assessment objectives, help sheets and expectations. These can be found on the shared area in school and are given out during lessons in the form of place mats.
Students should have a set of drawing pencils, colouring pencils and basic equipment such as a sharpener, eraser, and ruler.
Students should aim to invest in a basic set of oil pastels, watercolours and acrylics so that independent study can be carried out as homework.
Events and Visits
GCSE support sessions
A trip to the Tate Britain
Visiting galleries is an imperative part of the Art GCSE course. It is important to visit artworks and make contextual links between your own work and the work of Artists throughout your GCSE course. This gains your marks in your assessment objective 1 and shows the influences that help to develop project work.