Summer Term (Year 6)
Primary Visits
Prior to our Induction Evening all primary schools are contacted and information about new students' academic levels, educational needs, friendship group and personalities is collated. Over the Summer Term we attempt to visit as many primary schools as possible so that the Year 7 Transition Team can introduce themselves to the new students, provide information and answer any questions prospective girls may have.
The students we visit are given a postcard that they can write questions on which will be answered by one of our current Year 7 students.

Induction Days
All the girls joining us in September are invited to our Induction Day. This is an excellent opportunity for students to really begin to feel like a student at the school as they attend some lessons, meet staff and students and are given important information they will need to know for September. Students come dressed as they would normally at primary school. They need to bring pens, pencils and a pair of trainers; lunch is provided. Students need to arrive at the school at 8.30am and the day ends at 2.45pm when parents can collect them from the playground.
Those students who are the only one, or one of two, joining us from their primary school are invited on an additional induction afternoon. This is by invitation only.
Those students who may have Special Educational needs and wish to visit us more than once to develop their confidence further will be invited to additional days and visits to the school.
Induction Evening
This evening event provides the opportunity for parents and students to meet key staff, including form tutors and the Year Leader and other girls who will be joining the school. Information includes how the school operates and arrangements for students' arrival in September.
The meeting starts at 7pm but there will also be the opportunity to purchase school uniform and PE kit from 5pm onwards.
Base Camp 2019 -Monday 20th July to Friday 2nd August 2019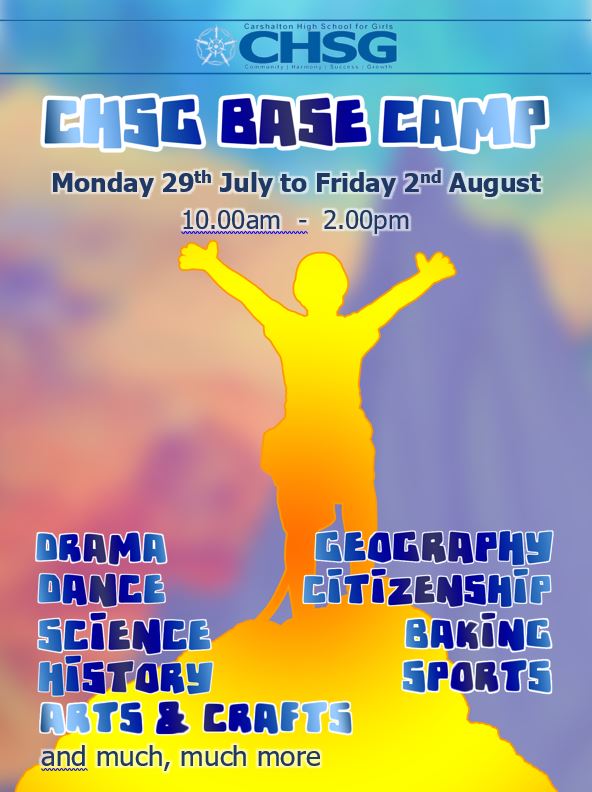 This is an excellent opportunity for students to visit the school during quiet periods and undertake some activities that will be new to them in September.
CHSG Base Camp is a place where students can prepare and organise themselves ready to start the climb to success at CHSG.
Throughout the week they will take part in many fun sessions which link to the different subjects such as Numeracy, Literacy, Sport, Dance and Art & Craft.
It is an action packed week, but no climbing equipment, tents or sleeping bags will be required! Students will, however, need to wear comfortable clothing and footwear. They will also need to bring a packed lunch and snacks every day as well as a water bottle.
Ten Steps to Year 7