Student Leadership
At CHSG we strongly believe student leadership is one of the essential strands of personal development. We encourage all students to take on leadership roles in our CHSG community and believe this is vital to developing our values and vision. The development of leadership provides opportunities for students to develop the characteristics of a successful person and improves academic success, opening doors in the future.
We believe that students should be given a wide range of opportunities to develop and practise leadership skills in preparation for life beyond school. Many Student Leadership activities will focus on improving the quality of teaching and learning in the classroom and supporting the school's vision for inclusive leadership that generates a culture of shared responsibility and pride for staff and students.
Aims of our Student Leadership Programme at CHSG
To provide opportunities for students to develop leadership skills through a variety of inspiring, challenging initiatives which impact positively on learning, teaching and well-being for both students and staff.
To empower students to work in partnership with staff towards our shared vision.
To prepare students for Higher Education and for achieving personal and professional excellence in life after formal education.
We have many students who are keen to be involved in the Student Leadership Programme and who wear their own specific coloured badges with pride which identifies them to all students in school.
Student Leadership Teams
Sixth Form Senior Leadership Team (SLT) 2023-2024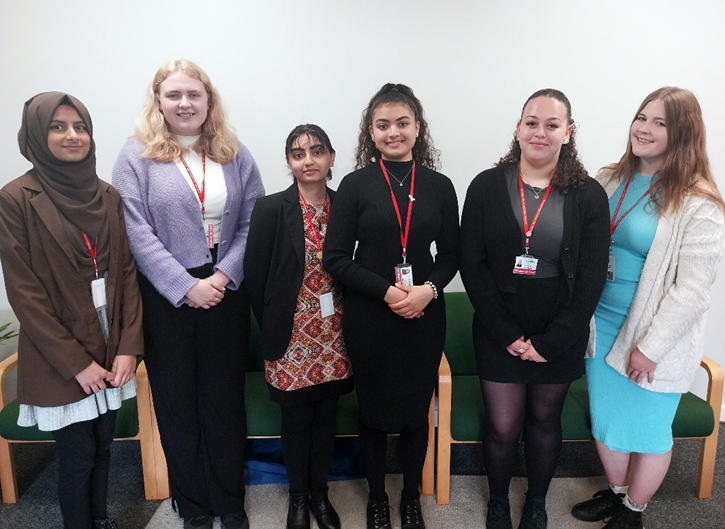 At CHSG we believe that our students should be given extensive opportunities to develop their leadership. Our Sixth Form Senior Leadership Team (SLT) are elected by staff and their peers and hold positions of responsibility in the Sixth Form and the whole school. The Head Student Leaders and Deputies are interviewed by the Headteacher and Assistant Head, following the application process.
The students who form the SLT have demonstrated excellent leadership qualities and commitment to Sixth Form. The range of leadership opportunities that we offer gives our students confidence and prepares them to be future leaders both at university and in their chosen careers.
Year 13 Senior Prefects
Prefects are selected following an application letter and feedback from the Sixth form tutor team. The lead prefect oversees the team and attends school council meetings. Their main role is to carry out duties during both break and lunchtime to support students across the school.
Head Student Leaders
Kaynat
As one of the Head Girls I will specialise in leadership. For example, organising assemblies, fundraising events and competitions. Furthermore, I will look into allocating appropriate support to subject departments such as funding ideas for more subject specific equipment/resources. I will frequently speak to fellow students to discuss how the school can be further improved for their best interest. I will explore potential concerns and queries and find effective solutions.
Tia
I will be ensuring that throughout the school there is support for subject mentoring for all year groups. It is important that anyone who needs it is able to access support in all aspects of their school life as well as a chance for different year groups to communicate, work with and support one another. As well as this, I also will have a role in student transitions both from Year 6 to Year 7 and from Year 11 to Sixth form. These moves can be a big jump and a stressful period, and a chance to communicate with an existing student and have your worries put to rest is a significant help. I hope to work well with the rest of the student leadership team to improve the school community as well as take any of your ideas for the school into consideration. I also oversee the Girls on Board Senior Prefects.
Katie
Within my role, I hope to see a more integrated CHSG between the lower school and Sixth Form. I hope to create more Sixth Form led opportunities for our school so it feels like a united community where the younger years feel they can come to Year 12 and 13 to seek guidance and help. I will take on board suggestions from any students and discuss them with my leadership team to see what changes we can implement into our school.
Deputy Head Student Leaders
Nimra
role is to overlook running after school societies and clubs for everyone at CHSG. This includes collecting new ideas from the year group and the younger years as well on what they would like to see or do as new extracurricular activities. My job is to bring these ideas to life using teamwork and dedication. Furthermore, I also discuss issues that students at CHSG are facing in student council meeting to bring about positive change which makes our institute an efficient and healthy learning environment for everyone.
Eleanor
My role is to be in charge of wellbeing and making sure that students are all cared for and looked after. This is to make sure that our school is always cared for from students to staff and that we can cooperate together to help each other. In addition, I wish to work more on personal development days to help encourage more students to feel open and willing to express their thoughts and feelings about topics that they feel are important to them and that they wish to cover.
Mahnoor
My role is to manage the Young Enterprise team for Year 12. From my personal experience, Young enterprise is a great opportunity for development, and requires a lot of management, commitment and self-reflection. I would be ensuring that things run smoothly and are well planned to provide an enjoyable experience for the students while also guiding them through the process. As a school we will be taking part in competitions for young enterprise as well. I also look forward to arranging clubs for the younger years that focus on wider reading as it provides them with an opportunity to focus on what they find interesting.
Girls on Board Ambassadors
This is an initiative to help girls between the ages of 7 and 18 navigate the often-troubled waters of friendship problems.
Girls on Board is an approach which helps girls, their parents and their teachers to understand the complexities and dynamics of girl friendships. By empowering girls to find their own solutions, parents need to worry less, schools can focus more on the curriculum and the girls learn more effectively – because they are happier. We have a team of 16 GOB Ambassadors in Year 13 who help support this programme at CHSG.
Year 11 Head Girls
The Year 11 Head Girls and Deputies demonstrate excellent leadership qualities and commitment to both Year 11 and the school. The range of leadership opportunities that we offer gives our students confidence and prepares them for post 16 life.
The Sixth Form and Year 11 student leadership team meet regularly with the Head Teacher and the Assistant Head Teacher with the oversight for the Student Council.
Student Council
The Student Council is elected from years 7-13 and is made up of 2 students from each year group. The Student Council supports the student leadership team and works with students and staff across a range of different areas including Diversity and Wellbeing, Teaching and learning supporting our community and charity work. The student council is student-centred allowing students to learn to work together to play a positive role within our CHSG community.
A number of the Council's recommendations have been adopted, such as improving the school's rewards system: The restructure of the House system, with a focus on an inspiring female role model each half-term and to rename the Houses. The Student Council al influences some staff appointments as student council members are often involved in the interview process.
The Student Leadership Structure
At the beginning of the Autumn Term, Sixth Form students apply to become a member of the Prefect Team.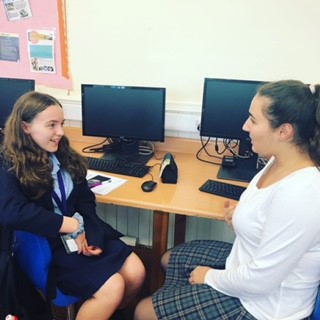 There are many opportunities for our students to get involved in leadership when in the Sixth Form.
The supportive and happy environment evident in lessons within the classrooms is certainly felt within the rest of our Sixth Form as well. Our Sixth Form students hold key positions of responsibility within the Student Leadership Team. These students help foster a sense of pride that students have in our school and Sixth Form.