PE in the Sixth Form
A Level PE
Students study:
applied anatomy and physiology
exercise physiology and applied movement analysis
skill acquisition
sport psychology
sport and society
You will be involved in one practical performance of one chosen sport as a player, performer or coach, and you will complete one piece of coursework based on Performance Analysis and Performance Development Programme.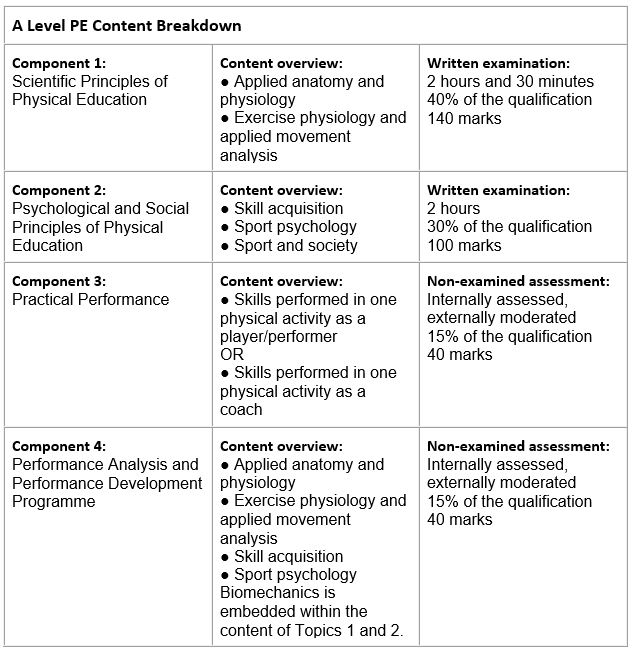 What sort of work will I be doing?
The work is split in between coursework/practical and theory, with much more emphasis on the theory work. You will be expected to do research, and investigative work, group work and individual tasks. You will also be expected to complete regular homework assignments and do further reading at home. You are expected to participate in sport outside of school and take part in extra curricular activities within the school
What exam board do we follow?
Edexcel
Entry requirements:
Grade 6 or above in PE
Grade 6 or above in English
Grade 6 or above in Biology or Combined Science.
Must take part in sport outside of school
And finally….
The PE department has very high expectations. To fulfil your true potential in A Level PE you will need to have a keen interest in the subject. It is vital that you have lots of enthusiasm and commitment to the course as you will be expected to attend extra curricular clubs.
With a qualification in Physical Education you could go on to Higher Education and pursue a career in the following areas:
Sports Coach
Sports Development
Facilities Management
Sports Science
Sports Nutrition
PE teacher
Lecture
Sports Marketing
Sports Broadcasting
Sports Journalism
Chiropractor
Physical Therapist
Personal Fitness Trainer
Sports Physiotherapy
BTEC: National Extended Certificate in Sport
You will study three mandatory units:
Unit 1: Anatomy and Physiology
Unit 2: Fitness Training and Programming for Health, Sport and Well-being
Unit 3: Professional Development in the Sports Industry.
There is one optional unit which has been designed to support choices in progression to sport courses in higher education, and to link with relevant occupational areas.
What exam board do we follow?
Edexcel
What is the course about?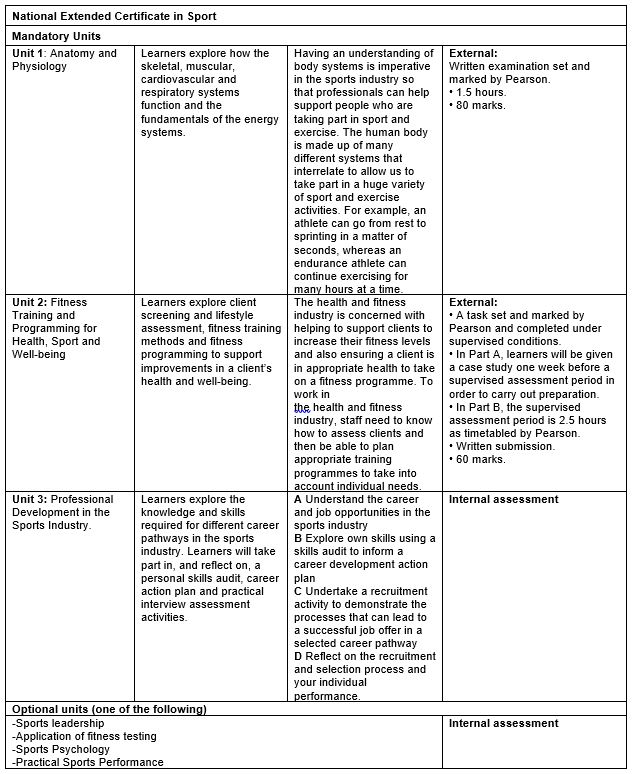 Entry requirements:
Grade 4 or above in PE, English and combined science
Must take part in sport outside of school
Progression and career opportunities:
University courses
Sports Coach
Sports Development
Facilities Management
Sports Science
Sports Nutrition
PE teacher
Lecture
Sports Marketing
Sports Broadcasting
Sports Journalism
Chiropractor
Physical Therapist
Personal Fitness Trainer
Sports Physiotherapy
Useful Websites