GLT Governance
Governance Structure
A multi academy trust (MAT) is a legal structure that brings two or more schools under the control of one governing board, while still functioning as separate schools that retain their own identity. The Girls' Learning Trust (GLT) is a MAT.
GLT has three levels of governance. Firstly it has 'Members', which are akin to the shareholders of a company, except that as a charity there are no profits. GLT can have up to five Members, some of whom may also be Trustees who sit on the GLT Board (see below) and others who are independent. Members have an overview of the governance arrangements of GLT and appoint the Trustees.
| Name | Date Appointed |
| --- | --- |
| Hamza Aumeer | 1.9.15 |
| Donna Evans | 1.1.16 |
| Tony Hyams-Parish | 1.9.15 |
| Vacancy | |
| Vacancy | |
The second level of governance is the GLT Board (the board of trustees/directors). There are currently 8 trustees / directors on the GLT Board which is;
The overall governing body for GLT and all the schools within
Responsible for setting the strategic direction for GLT including key performance indicators (KPIs)
Accountable for the educational performance of the Trust and all academies within
The employer of all staff in the Trust
Responsible for determining Trust wide policies as appropriate
The following people make up the GLT Board:
Name
Role
Date Appointed
Term of
Office Ends
Sandy Gillett

Chair/Director/Trustee

1.9.16
31.8.20
Philip Taylor

Vice Chair/Director/Trustee

1.9.19
31.8.23
Hamza Aumeer

Director / Trustee (co-opted)

10.12.19
9.12.23
Alex Clark
Director / Trustee
1.9.19
31.8.23
Robert Etchell
Director / Trustee (co-opted)
1.4.20
31.3.24
Marie Grant
Director / Trustee
1.4.18
31.3.22
Malcolm Munroe

Director / Trustee

1.4.18
31.3.22
Nigel Pepper

Director / Trustee

1.9.19
31.8.23
Jennifer Smith
CEO
1.9.19
On termination of employment
Andrew Horrod

Clerk

-
-
The third level of governance comprises the Trust Committees and Local Governing Bodies (LGBs). The Board has a number of Trust Committees that report to it, to enable it to carry out its functions. These include Finance and HR and these committees are made up of Trustees from the Trust Board and Governors from the LGBs.
Each school within GLT has its own LGB. The LGB is a committee of the GLT Board and;
Is responsible to the Trust Board for the performance of the school
Supports and challenges the Headteacher and the school leadership to secure strong student
performance
Provides oversight and monitoring of the school's activities to ensure an excellent standard of education is delivered
Achieves the KPIs set by the Trust Board and delivers the school development plan
Contributes to the wider work of GLT through the membership of the Trust committees
More information on the way the Trust and committees work together can be found in the GLT Scheme of Delegation within our Governance Handbook.
The composition of the Trust Committees is as follows:
Trust Admissions (Selective Schools)
| | |
| --- | --- |
| Nigel Pepper (Chair) | Trustee |
| Sandy Gillett | Chair of the Trus Board |
| Jennifer Smith | CEO |
| Andrea Cooke | Nonsuch Governor |
| Robert Etchell | Wallington Governor |
In attendance:
| | |
| --- | --- |
| Richard Booth | Headteacher |
| Amy Cavilla | Headteacher |
Trust Finance
| | |
| --- | --- |
| Nigel Pepper (Chair) | Chair / Trustee |
| Andrea Cooke (Vice Chair) | Nonsuch Governor |
| Alex Clark | Trustee |
| Robert Etchell | Trustee |
| Marie Grant | Trustee |
| Malcolm Munroe | Trustee |
| Jennifer Smith | CEO |
| Hamza Aumeer | Wallington Governor |
| Paul Harding | Carshalton Governor |
| Helen Latham (in attendance) | Director of Finance and Operations |
Trust Governance
| | |
| --- | --- |
| Sandy Gillett (Chair) | Trustee |
| Marie Grant (Vice Chair) | Trustee |
| Nigel Pepper | Trustee |
| Philip Taylor | Trustee |
| Jennifer Smith (In attendance) | CEO |
Trust HR
| | |
| --- | --- |
| Philip Taylor (Chair) | Trustee |
| Sandy Gillett (Vice Chair) | Trustee |
| Vacancy | Trustee |
| Jennifer Smith | CEO |
| Hamza Aumeer | Wallington Governor |
| Chris Cox | Carshalton Governor |
| Helen Latham (in attendance) | Director of Finance and Operations |
Carshalton High School for Girls Local Governing Body
| Name | Role | Date Appointed | Term of office Ends |
| --- | --- | --- | --- |
| Malcolm Monroe(Chair) | Trustee | 17.6.2019 | 31.3.2022 |
| Paul Harding (Vice Chair) | Appointed Governor | 17.6.2019 | 16.6.2023 |
| Chris Cox | Appointed Governor | 17.3.2019 | 16.6.2023 |
| Nelly Keung | Appointed Governor | 8.10.2018 | 7.10.2022 |
| Vacancy | Appointed Governor | | |
| Helen Holmes | Appointed Governor | 8.10.2018 | 7.10.2022 |
| Joseph Thevaranjan | Parent Governor | 27.1.20 | 26.1.24 |
| Matt Butler | Parent Governor | 11.12.2018 | 10.12.2022 |
| Lorna Stanley | Staff Governor | 20.5.2016 | *19.5.2020 |
| Katie Buchanan | Staff Governor | 8.2.2017 | *7.2.2021 |
| Moe Devenney | Headteacher | 1.9.2019 | On termination of employment |
Nonsuch High School for Girls Local Governing Body
| Name | Role | Date Appointed | Term of Office Ends |
| --- | --- | --- | --- |
| Marie Grant (Chair) | Trustee | 11.5.2019 | 31.3.2022 |
| Vacancy) | Appointed Governor | | |
| Andrea Cooke | Appointed Governor | 30.6.2018 | 29.6.2022 |
| Emma Walford | Appointed Governor | 18.4.2018 | 17.4.2022 |
| Sue Cooke | Appointed Governor | 25.9.19 | 24.9.23 |
| Vacancy | Appointed Governor | | |
| Claire Copland | Parent Governor | 3.2.20 | 2.2.24 |
| Sunita Mohan | Parent Governor | 31.10.18 | 30.10.2022 |
| Hannah Shortt | Staff Governor | 1.5.2018 | *30.4.2022 |
| Gavin Murdoch | Staff Governor | 6.10.2017 | *5.10.2021 |
| Amy Cavilla | Headteacher | 1.9.2016 | On termination of employment |
Wallington High School for Girls Local Governing Body
| Name | Role | Date Appointed | Term of Office Ends |
| --- | --- | --- | --- |
| Hamza Aumeer (Chair) | Appointed Governor | 31.3.2018 | 30.3.2022 |
| Robert Etchell (Vice Chair) | Appointed Governor | 1.1.2017 | 31.12.2021 |
| Rosemary Allotey | Appointed Governor | 30.6.2019 | 29.6.2023 |
| Eveline Reynolds-Boison | Appointed Governor | 10.7.2017 | 9.7.2021 |
| Nadia Nagamootoo | Appointed Governor | 28.11.2017 | 27.11.2021 |
| Laura Sutton | Appointed Governor | 27.1.20 | 26.1.24 |
| Naheed Ali | Parent Governor | 26.11.19 | 25.11.23 |
| Julie Smith | Parent Governor | 8.6.2017 | 7.6.2021 |
| Vicky Watson | Staff Governor | 31.12.2015 | *30.12.2019 |
| Vacancy | Staff Governor | | |
| Richard Booth | Headteacher | 1.9.2016 | Ex-Officio |
*or on termination of contract of employment
In addition, an Executive Team work strategically to shape the direction of the Trust and manage the day to day operations. The current structure is as follows: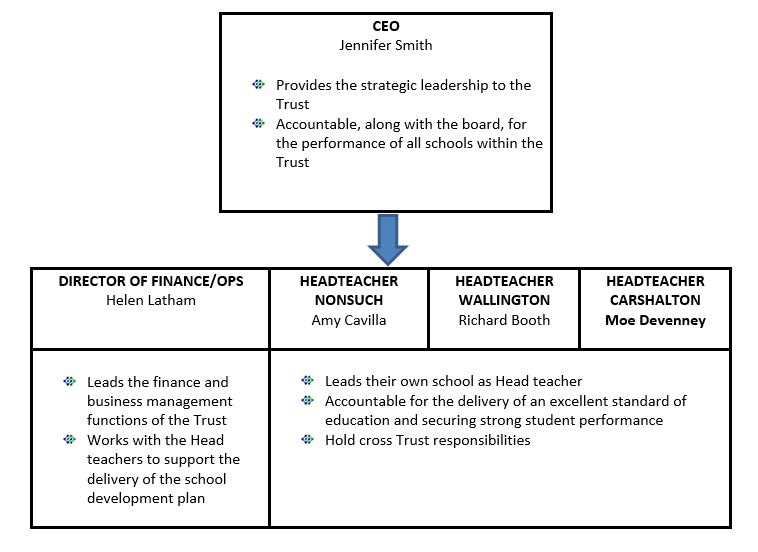 The chart below illustrates how the day to day management of the schools is structured within the GLT model: