Antibullying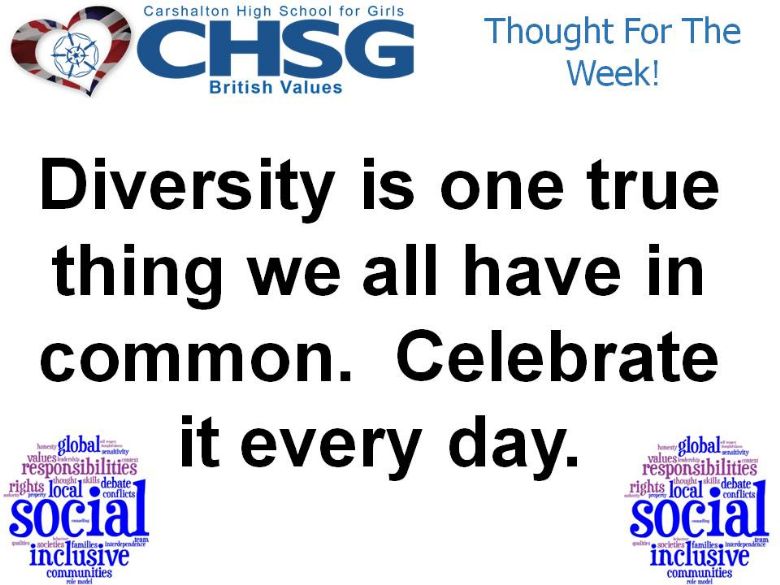 Carshalton High School for Girls believes that all students have the right to a safe and secure environment at school. We promote an environment which teaches students respect for others and where our entire community are encouraged to contribute to a caring and effective atmosphere.
We believe that all students, staff and parents/carers have the right to be protected from bullying and abusive behaviour. At Carshalton High School for Girls a collective responsibility from students, staff and parents to report bullying in all forms is encouraged. This enables any incident to be dealt with immediately and as effectively and efficiently as possible. The expectations of good behaviour in Carshalton High School for Girls are high and implicit and supported by a positive environment in and out of the classroom. Carshalton High School for Girls expects students to behave in such a way that no intimidation of a fellow student takes place.
Key Steps
It is essential that students report any incident that takes place in school to a member of staff as soon as possible so that it can be followed up and dealt with swiftly. If a student does not report an incident to staff at school but reports it to a parent, then we would ask the parent to make contact with us immediately via the student's Form Tutor, Year Leader or Student Support.
Parents are asked to monitor students' use of social media and ensure that they are fully aware of what is being posted on social media. If any threatening messages are received on social media or through any other means of communication, then the advice of the police is to ring 101 immediately.
Parents are asked not to attempt to make contact with any student directly who may have been unkind to a student or who a parents may feel is being a bully. Instead, if it is a matter that has arisen during the school day, contact should be made with the school, or the police if it an issue that has arisen outside of school. No approach should ever be made to another student in person or by any other means of communication. If parents are in any doubt, please contact the school for guidance.
Students comment on antibullying at CHSG

The links below provide information on how to support students