Wear it Pink for Breast Cancer Now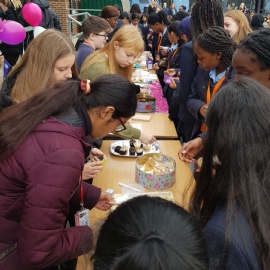 On Friday 21st October we were supporting Breast Cancer Now's Wear it Pink campaign by wearing a pink top or accessories. Anyone who choose to take part was asked to donate £1 to this worthy cause. It is a house competition so the more students who took part the better for their houses.
The Sixth Form also held a bake sale outside the Sixth Form block.
UPDATE
Thank you to everyone involved in the Wear it Pink fundraiser before half-term for Breast Cancer.
A huge thank you to Sue and the House Team for organising the day, it was a great success and real #teamCHSG effort.
The House results are as follows!
1st Green - £254.04
2nd Red - £184.63
3rd Blue - £181.19
4th Yellow - £159.84
Staff and students raised an amazing £779.70!