Penguin Book Competition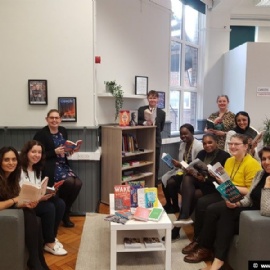 The English Department is thrilled to have won 130 books in the Penguin Lit in Colour Book Giveaway competition. Mrs Bhatt wrote the entry and a panel of judges picked our school to benefit from this incredible collection of 101 different Penguin titles by Black, Asian and minority ethnic writers.
In addition to the 100 books for the department, we received a class set (30 copies) of 'Empireland' by Sathnam Sanghera, an interactive activity pack based on the book, and 5 free audiobook downloads.
"I was in my final year at university before I read a brown author. I was well into my forties before I began to get my head around the complexity of British imperial history and its modern legacies. It has been a thrill to see Empireland seized upon by people, on the left and right of British life, as a balanced way into the often toxic debate about colonialism. And it's exciting that thousands of young people across Britain will not have to wait as a long as I did to start thinking about these issues."

Sathnam Sanghera, author of Empireland