Elite Dancers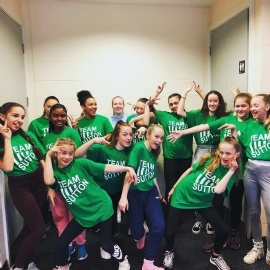 The Elite Junior Dance team have been working very hard on our Pillow Dance entitled 'Sleep, I Will, I Swear'. This took lots of preparation to enter into the London Youth Games and The Great Big Dance Off.
On 12th February, we travelled up to the Copper Box Arena in London to perform at the London Youth Games against 24 other schools. We came 10th and it was a really great opportunity and a fantastic experience. Later in the day, we travelled to Folkstone for The Great Big Dance Off. We were placed third which was an amazing achievement. It was a long but very rewarding day for everyone. Thank you to Miss Johnson for organising and accompanying us to both events.
Amy, 8HL1

The Elite Seniors competed at the Great Big Dance Off on the 12th March with our Game of Survival dance piece. The event was really enjoyable and although we weren't able to reach the next round, we are proud of ourselves nonetheless. We are currently working on a new piece as we are always trying to improve!
Amelia, 10PK2
We started a new lyrical ballet piece to a Celine Dion song which we are going to perform in the Easter Assembly and the Ignite Dance Show after Easter (Wednesday 24th April). Before this, we worked on our ballet technique to ensure our piece was the best it could be.
Lara, 8RD1