Admissions - Year 7 Entry
Year 7 Transition Video
Year 7 Applications September 2024
The admissions number for Year 7 2024 is 240 places, of which 24 are scholarship places for students with an aptitude in Sport or Music. There is a supplementary form for applications for a scholarship place. To find out more information regarding our Scholarships click here.
For admissions from primary school to Year 7 parent/carers are asked to complete the Common Application Form (CAF) available from their primary school or the London Borough of Sutton Admissions. Applications are not made directly to CHSG.
Parent/carers are strongly advised to read our Admissions Policy carefully and information and advice from their local authority.
The CAF must be submitted by 31st October each year. Applications received after this date will be regarded as late.
On 1st March each year parents/carers will be notified about which school their child has been offered a place at. Those who did not receive an offer of a place at CHSG have the right to lodge an appeal against this decision.
Carshalton High School for Girls is a calm, welcoming school. Pupils are happy and feel safe.

Leaders grace developed a culture where pupils behave well and work hard.

Ofsted January 2023
Why choose Carshalton High School for Girls for your daughter?
Here is what our parents said about the induction process at CHSG: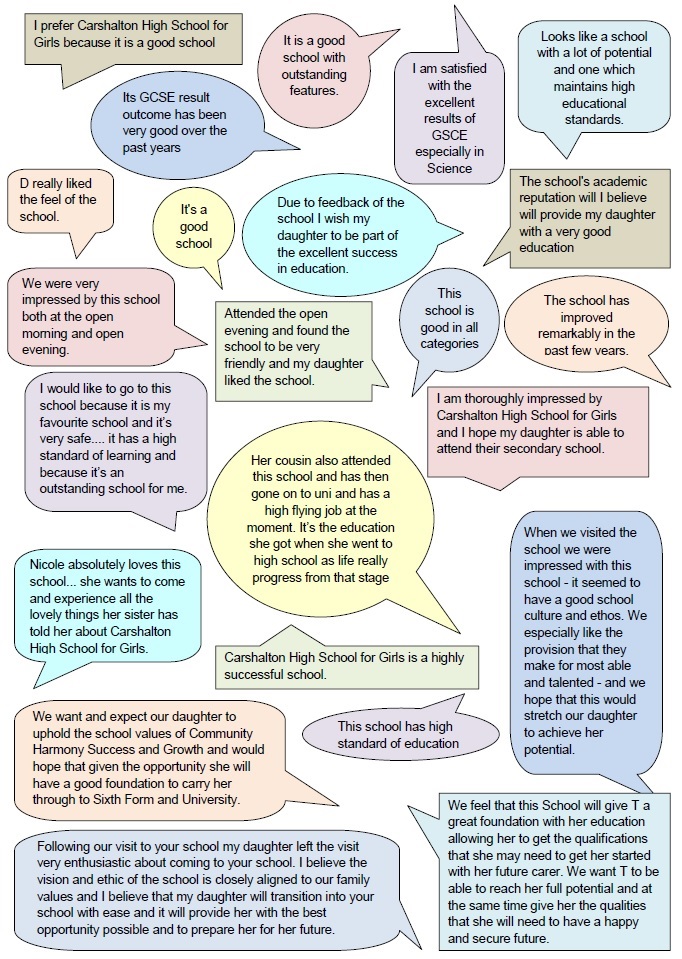 Are you starting high school with us in September? If so, you will find all your questions answered here.
Here are some of the comments parents have made about us during the Covid Pandemic