Year 11 Exams - November 2021

Year 11 Examinations in
English, Maths and Combined/Triple Science
Wednesday 10th November – Monday 15st November
Below you will find a copy of the Year 11 Examination timetable for English, Maths and Science. The mock examinations will be sat in the Hall and Gym or, if your daughter has specific exam dispensation, an agreed alternative venue and will follow strict examination rules and regulations.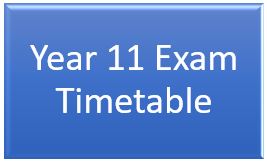 Students will be required to be in school, in correct uniform, during this time, sitting their exams during periods 1, 2 and 5 10th-12th November and p1 and 2 on 15th November. They will attend normal timetabled lessons during periods 3 and 4. Can you please have a look at the timetable with your daughter and ensure that they are prepared for each examination.
The minimum equipment required for each examination is as follows:
A clear pencil case
A black ink pen
A pencil
A ruler
A rubber
A calculator if the paper/subject requires one
They can bring a bottle of water into the examination, but the wrapper will need to be removed. No other items are allowed into the examination venue. These examinations will be run as if they were the student's real GCSE examinations and therefore it is good practice to get into the habit of what is required for the examinations.
There are several techniques that students should use to help them revise:
Spaced practice - the greater the planning and preparation given to creating revision timetables the more time students have to learn the content. In addition, it gives students the time to break large units down into more manageable bite-size content.
Interleaving - students study a topic for up to 20 minutes. They then take a short break and study another topic for 20 minutes. After another short break, they write down everything that they have learnt in both the 20-minute sessions. This will build up the content stored and help to identify any gaps in their learning.
Dual coding - students take a topic and change it into diagrams, pictures, mind maps etc. We recall these much easier than written text, hence why we can remember faces but not always names!
Retrieval Practice - students put away their books and write/sketch everything they can remember no matter how great or small. This will help to again identify any gaps in learning - if they do not know it or cannot remember it, use the techniques above to help it sink in.
We ask parents to support their daughter(s) by ensuring that they revise and prepare for examinations in a manner appropriate.
Examples of how you might assist include:
Help with creation of a revision timetable and ensure there are breaks included. This can reduce panic and last minute 'cramming' of subject content the night before.
Please encourage your daughter to use the revision techniques above and ask questions about the techniques she has learnt.
Ask your daughter to teach you the content of the exam in detail. Studies have shown that when we teach others we are more likely to learn something ourselves and develop our understanding further.
Remove any items that can distract your daughter and encourage your daughter to study hard for 20 minutes without distraction and then take a break. Studies have shown that this technique is far more productive than lengthy revision sessions.
Ensure your daughter gets plenty of rest and eats well during the examination period.
Discuss the exams with your daughter and help to alleviate any stress. We simply want to see their best, that is all.
If a student is absent for any reason they will have to take any missed examinations upon their return.
For your reference, please see the exam board links
https://qualifications.pearson.com/en/qualifications/edexcel-gcses/mathematics-2015.html
If you have any subject specific questions about these examinations, then please speak directly to your daughter's class teacher. For all other queries please do not hesitate to contact your daughter's Head of year, Miss Marshall jmarshall@carshaltongirls.org.uk or Mrs Durrett, Assistant Headteacher pdurrett@carshaltongirls.org.uk
We wish all of our students the best in her forthcoming examinations.
Mr A Elstone, Deputy Headteacher Curriculum