Stories & Poems
Compass and Torch by Elizabeth Baines
The short story, Compass and Torch, tells the experience of a father and son that go on a camping trip, to try and form a relationship.
Iridescent Adolescent by Phoebe Roy read by Mrs Bhatt
A story about a girl who sprouts feathers and longs to be hollow.
Blood, Red Poppies by Shreenithi 7RW1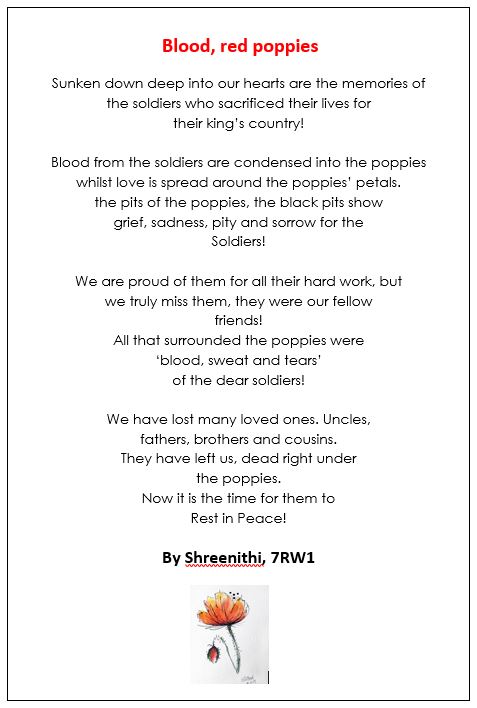 Blessing by Imtiaz Dharker read by Mr Richardon
The story is set in a town in India affected by a long drought. Suddenly a municipal pipe bursts....
The Sleeping Teenage Brain, a short article read by Ms Kelly-Smith
Children and teenagers need more adequate sleep that will help them to improve their growth and brain development.
Night of the Scorpion, a poem by Nissim Ezekiel
Ezekiel is an Indian Jewish poet who writes about a terrifying incident set in rural India. A scorpion has bitten the speaker's mother and all the community have different reactions to it.
Superman & Paula Brown's New Snowsuit by Sylvia Plath
"Superman and Paula Brown's New Snowsuit" is a short story by Sylvia Plath, written in 1955. It deals with children's fantasies and with how children can put blame on others for their material losses and easily fall into a collective blaming. When you are accused of something, in reality Superman is never around to save you easily.
Crongton Knights - Stop and Search by Alex Wheatle
Living on the South Crongton council estate has its worries - and life for McKay has been even tougher since his mum died. His dad has been working all hours to keep the bailiffs from their door. (Read by Miss Ishola)
1984, by George Orwell
First published in 1949, this book offers political satirist George Orwell's nightmarish vision of a totalitarian, bureaucratic world and one poor stiff's attempt to find individuality.
When the Wasps Drowned, by Clare Wigfall
'When the Wasps Drowned' by Clare Wigfall is read by Ms Kelly-Smith (Recommended for *Year 9+)
'When the Wasps Drowned' is a story set on a blisteringly hot day and is about childhood naivety.
*This story contains gory and unpleasant references to crime.
The Paradise Carpet, by Jamila Gavin
This is a story set in India about a boy trapped into slave labour. It is read by Mrs Bhatt.
From the Blurb

The Paradise Carpet depicts the story of a group of child slaves attempting to weave a lavish carpet for a wealthy gentleman. Gavin portrays the theme of enslavement through Ishwar and the other boys, using techniques such as metaphorical language, imagery and repetition. Gavin portrays the theme of enslavement, firstly, through the use of similes and animalistic imagery; this is evident when the boys were 'crouching like caged animals'.
The Hate You Give, by Angie Thomas
This story is suitable for Year 9+ containing references to extreme violence and themes of racism.
From the Blurb

Sixteen-year-old Starr lives in two worlds: the poor neighbourhood where she was born and raised and her posh high school in the suburbs. The uneasy balance between them is shattered when Starr is the only witness to the fatal shooting of her unarmed best friend, Khalil, by a police officer. Now what Starr says could destroy her community. It could also get her killed.
Inspired by the Black Lives Matter movement, this is a powerful and gripping YA novel about one girl's struggle for justice.