Maths in the Sixth Form
"Anything we learn in maths has literally thousands of applications, in arts, sciences, finance, health and leisure."

Professor Ruth Lawrence
A Level Maths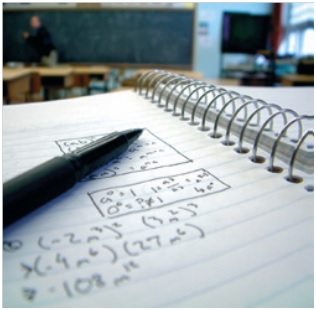 The study of Mathematics at A Level provides students with a broad vision of the subject, continually challenging students' perceptions of what they consider "Mathematics" to be. Those who study post-16 Mathematics at CHSG will gain a greater understanding of the subject being applied to the "real world" in the form of Applied Maths in Statistics and Mechanics, as well as having their eyes opened to the beauty and elegance of Pure Mathematics, focusing on abstract ideas and material. Students will see how the initial great divide between applied and pure Mathematics becomes narrower and narrower as they progress through their studies, and leave not only with a high grade but also with an idea of how different areas of Mathematics are strongly linked.
The aim is to provide all of our Year 12 students with the highest quality A Level programme to equip them well and to place them in the strongest position to continue on whatever study or career path that they have chosen, with a good number staying on through Year 13 to complete a full A Level. We teach all students as if they working towards the full A Level, to give them the best experience possible.
The second year of the A Level builds upon the first year and we aim to ensure that students have a personalised programme of study that will enable them to achieve their potential in the subject. This will involve personalised homework tasks at times and past paper practice. Students will be expected to work hard!
What is the course about?
A Level Mathematics and Further Mathematics will broaden your experience of Mathematics at GCSE and prepare you to study Mathematics or its applications at a higher level. You will continue to deepen your knowledge of Algebra and Geometry in Pure Mathematics, whilst learning skills in the new areas of Calculus in your first year, and then deepen your knowledge of this in the second year.
The applied content will use the knowledge and skills learnt at GCSE and in the Pure units, and apply these to everyday, real life concepts which can relate to business and industry amongst many others.
What sort of work will I be doing?
You will complete a variety of tasks to help you to develop your understanding including exercises, practice exam questions and applying theory to different contexts in real life. You will have to have a strong background in algebra in order to cope with the demands of the subject.
You will learn how to sketch graphs, solve equations, find the sum to infinity of sequences, as well as studying how to interpret and analyse data, and how to model moving objects with mathematical equations. You will learn why we use certain formulae that you may have taken for granted at GCSE, and in Further Mathematics, you will have your eyes opened to concepts that you may have never known existed such as imaginary numbers!
How will I be assessed?
The course is 100% written examination, with 3 papers at the end of the second year.
What qualifications are needed to take this course?
You will need to get at least a 6+ in GCSE Mathematics to study this course, and a 8+ to study Further Maths. The cut off for deciding what a 'high' 6 or 8 is decided once the grade boundaries are released for the GCSEs in the year that you sit them.
What extra work can I do?
Use Hegarty Maths regularly in addition to your homework, in order to go over the grade 8 and 9 topics from GCSE. You will need to do extra reading and practice in order to keep on top of this fast-moving course. You will have an hour of directed work for each Maths lesson on your timetable to ensure that you complete classwork. We recommend the examsolutions.net website to assist you in revision and supporting the work done in class. This will provide you with videos on every aspect of the course. No log in details are required.
What do the students say?
"Mathematics is a challenging and intriguing subject that can be used in everyday life. You can gain many useful skills and it is extremely rewarding" Year 13 A Level Mathematics Student.
And finally….
The Mathematics Faculty expects students to be hard working in all aspects of their work – homework is essential for success, and hard work and practice will be expected from day one. Mathematics is a challenging but rewarding A Level, and is well respected by employers and Universities alike – whether you want to move into a Mathematical field, or whether you are doing it because you simply enjoy the subject, you will find this course has 'something for everyone'.
Further Maths at AS and A Level
Further Mathematics is a course that will enable you to take your Maths learning to a deeper level, and enable you to study a greater range of applied concepts. We have been offering Further Maths as a fully timetabled subject since 2012, and have therefore provided students with the depth and opportunity they need to go on to study Mathematics at degree level at any Russell Group university.
What is the course about?
Further Mathematics is a course designed to prepare students to move onto a Mathematics degree, or a degree that requires a large amount of Mathematics such as Engineering, Physics, and many more.
The top Universities require students to have done a Further Mathematics course in order to be considered for a Mathematics Degree, making this an essential course for budding Mathematicians!
What sort of work will I be doing?
You cannot study Further Maths at A Level without studying the Maths course as well. You will complement your Maths studies with more abstract ideas and concepts in Further Maths lessons, which you will find will cross over a lot into your Maths classes. You will have a deeper understanding of Maths and also study some fascinating concepts including Complex Numbers, Matrices and Decision Maths in Year 1. We do the applied optional papers of Further Pure Maths 1 and Decision Maths.
How will I be assessed?
The course is 100% written examination. You will end up with 2 full A Levels in Mathematics and Further Mathematics.
What qualifications are needed to take this course?
GCSE Mathematics with a grade 8 or 9 only.
What extra work can I do?
Over Year 11, you will need to focus strongly on your Algebra skills, as well as revising and working hard on your Grade 8 and 9 skills.
Ask your teacher which topics to work on in preparation.
And finally….
Further Mathematics is only available to those students that are studying A Level Mathematics as well. You will leave CHSG with two A Levels in Mathematics that will fully prepare you for the demands of a degree in Maths or related subjects at the top Universities in the country.
GCSE Mathematics Re-sit
What is the course about?
This course is designed for students that got a GCSE grade 3 in the Year 11 exam. The aim is to get a grade 4 on the Foundation or Higher tier in the November examination series. A typical student will take this course if they need a 4 or better for employment, or to be accepted at University. If you do not pass in November, there will be another opportunity to sit the exam in the Summer of the following year.
What sort of work will I be doing?
The programme has a strong grade 4 emphasis, and you will be taught all of the key grade 4 topics. You will do a lot of exam practice and exercises to help develop memory and exam skills. You will be working on the Hegarty Maths site which encourages independent work, and working through units of work designed to give you the best chances of passing your GCSE. We will decide which tier is most suitable for you, with most students being entered for Foundation.
How will I be assessed?
The course is 100% written examination. 3 papers.
During the course, you will be assessed by a unit test at the end of each unit of work.
What qualifications are needed to take this course?
What extra work can I do?
Doing lots of exam practice and using Hegarty Maths will help you to become an independent learner, but you will need to hand in past papers regularly to your teacher for marking. Past papers or sample materials can be hard to come by for the new specification, but we have plenty of practice material in the Maths Department; simply come along to the office to ask for some practice papers.
And finally….
The Mathematics Faculty expects students to be hard working in all aspects of their work – we want as many of our students as possible to go on to be successful in their chosen careers, and we will do all we can to support you in getting that all important grade 4. You will need to put in lots of hard work, and to rise to the challenge of making that Grade!