Home Lateral Flow Testing
In preparation for this there will be 4 stages:
Parents/Carers give consent to opt-in and receive the Home Testing kits. Please read the guidelines carefully and ensure you understand what is expected as well as the Privacy Notice and Use of Data. The portal for consent will close at 1 pm on Tuesday 23rd March.
We will be using a programme called TestRegister to upload results and assist us with the vast amounts of data that will be created. You will need to provide your email address to TestRegister and confirm you have read their privacy policy prior to submitting your test. Full guidance on how to use TestRegister is below. There will be no further correspondence or action needed from those who do not opt-in.
We will provide enough tests to last up until we return on Monday 19th April and into that week. Parents/carers are asked to carry on with home testing throughout the Easter holidays and report the results as above.
Home testing programme begins on Sunday 21st March. Students will test twice per week (Sunday & Wednesday) and upload results to Test Register.
What happens next?
Once you have opted in you will receive an email with instructions on how to register your test results on TestRegister and your daughter will be able to collect her Lateral Flow Device Test Kits from school, along with a booklet of information from the NHS.
Please open the email you receive from school confirming you have been added to the home testing programme. This email will include your registration codes. From the link provided, depending on your device/browser, it will look something like this:

This will open a new tab in your web browser that will look like this. Click on the blue "Submit test result" button.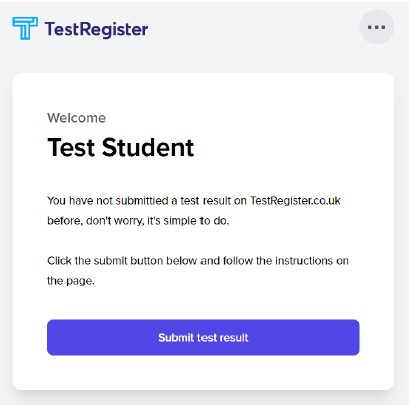 You will then be asked to submit your test result AGAIN on the Gov.UK website - click on the blue button.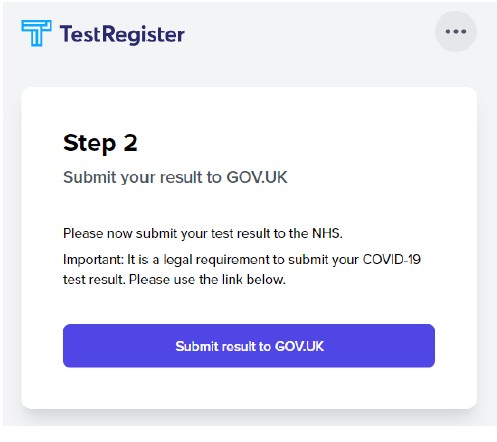 If you still have questions, please click below: