German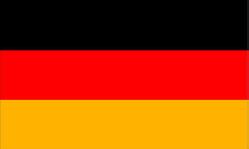 German means big business. Germany is home to the European Union's largest economy and the country has the third largest economy in the world. It is also the world's biggest exporter. Companies like BMW, Daimler, Siemens, Lufthansa, SAP, Bosch, Infineon, BASF, and many others need international partners and having German language skills definitely puts you at an advantage. German, en addition to being the language of some of the world's biggest companies, German has the highest number of native speakers in the European Union, with 83 million speakers in Germany alone and is also an official language in Austria, Switzerland, Lichtenstein and Luxembourg.
Due to the phonetic nature of the German language, the grammatical rules, and its similarity with English, learners who may struggle with other languages often find German easier to follow.
German is still a leading language of science, literature, art, philosophy and history. Learn German and get to know one of the great European cultures!
At Carshalton High School For Girls students can study German from Year 7 and go on to GCSE and A2 Level.