French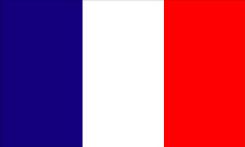 French is a truly global language, being spoken in 55 countries across 5 continents by over 200 million people. It is also the official working language of the UN, NATO, UNESCO, the International Olympic Committee, the European Union, the International Red Cross and many more!
French is ranked the second most influential language in the world and is the third most common language on the Internet. France is visited by more tourists than any other country in the world, with the Eiffel Tower being the most popular global attraction. France and fellow francophone countries have interesting cultures and histories. Think Marie Antoinette, Napoleon and the French Revolution! France has arguably played one of the most significant roles in the development of cuisine, art and fashion.
Learning the French language, in addition to giving you all normal benefits of learning a language, it it also gives you a head start on learning other Latin based languages like Spanish, Italian, Portuguese and Romanian.