Drama Year 9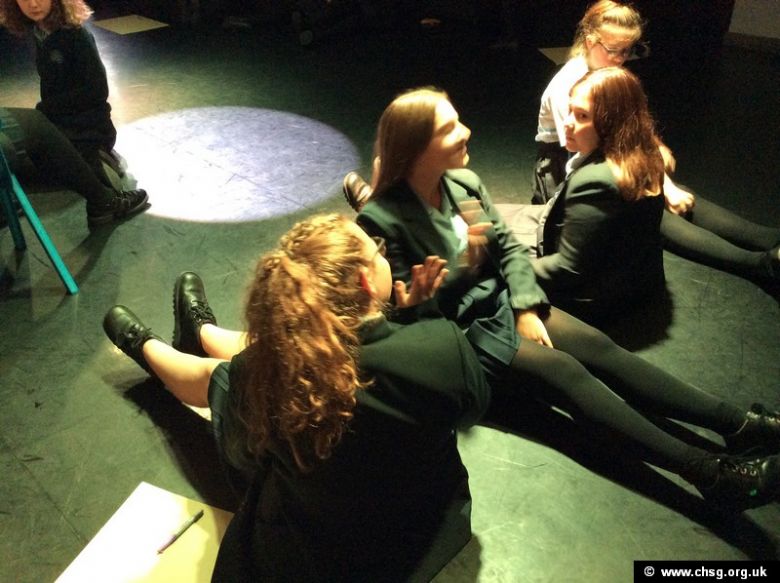 In the Autumn Term of Year 9, students who have initially opted for one of our courses follow a 'Taster' course. If they then choose to make a firm choice of a course, they will commence the full exam course in the Spring Term of Year 9.
Students are offered the choice of completing the GCSE Drama course or BTEC Level 2 First Diploma (Performance), working with the Dance department.
Drama GCSE - Year 9 Taster Course
Students will explore a Scheme of Work built around CSI (Crime Scene Investigation). Students will explore a crime through whole class role play, teacher in role and characterisation.
Year 9 GCSE
Students will now have made a firm option choice and will be starting foundation work for the Edexcel exam course.
They will explore more of the explorative strategies in detail and depth.
They will complete another 'mock' workshop based on a theme during which they will look at contrasting contents, attitudes to the subject presented by a range of authors and contrasting staging methods. They will complete documentary evidence to support this workshop.
Students will develop a piece of theatre based around celebrity.
Resources will depend on the specifics of lesson content and will vary as individual teachers personalise units of work for their own groups.
GCSE Drama
Component One:
Devising
40% of qualification
Students explore stimuli in a group, developing ideas, rehearsing and refining
these to create a devised piece of theatre for an assessed performance
Students record the creation and development process of this group
performance in a portfolio and evaluate their contribution to the process and the
performance.
Component Two:
Performance from text
20% of qualification
Students explore two extracts from one play text. They create a performance from the text,
rehearsing and refining their performance/design realisations for an assessed performance.
Students participate as a designer/performer andmay submit a monologue, duologue or group piece for each extract.
Component Three:
Theatre Makers in Practice
40% of qualification
Students practically explore a chosen set Text, DNA
Students are audience members for a live performance.
They practice responding to questions for both sections in examination conditions.
Written examination:
Section A – Bringing texts
to life
Section B – Live theatre
evaluation (students can
take in 500 words of notes)