Child Development Year 10
OCR Level 1/2 Cambridge National Certificate in Child Development
This qualification is for students aged 14-16 who wish to develop applied knowledge and practical skill in child development.
Students will have the opportunity to develop their knowledge and understanding of human needs in a diverse society and to work in a variety of contexts.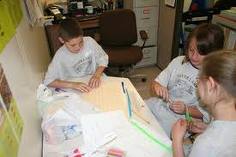 The skills and knowledge acquired will be relevant and transferable to other settings, enhancing career opportunities and providing a satisfying course of study for students of various ages and from diverse backgrounds who may not progress to further study of the subject. They also provide progression to GCE Health and Social Care.
Assessment Details
External Assessment (40% of the total OCR Cambridge National course)
Research Task- Internally Assessed (20% of the total OCR Cambridge National course
Child Study- Internally Assessed (40% of the total OCR Cambridge National course)
What is studied on the course?
Parenthood; Pregnancy; Diet, health and care of the child; Development of the Child and Support for the parent and Child
How is it taught?
Students will be taught in a way that will provide them with opportunities to actively engage in the processes of Child Development in order to deepen their own understanding but also support them to be effective and independent students.
Students will also be given the opportunities to develop a critical and analytical approach to problem solving within Child Development. They will also be able to examine issues which affect the nature and quality of child development and will include an appreciation of diversity and cultural issues.
Who should study this course?
It will suit any student who is seriously considering a career within Child Development; this could be within the Early Years setting or for those who wish to pursue a career in Midwifery.
Anyone who wants to achieve a high grade at GCSE will find that this is an interesting alternative to other subjects normally on offer. Students will develop a range of skills and techniques, personal qualities and attitudes essential to anyone who is interested in working in the sector.
What careers or courses does it lead to?
This course would be helpful for students who wish to work in the Early Years Sector; midwifery; Health Visitor. It is recommended that students complete a Key Stage 4 work placement in a related area. The qualification will also allow progression onto the Post 16 Level 3 Health and Social Care course offered in the Sixth Form.
Unit 1 R18 Health & Wellbeing for Child Development
This unit is examined via a 1 hour 15 min external exam that carries 80 marks (120UMS)
The first unit underpins all of the other learning in this qualification. All learn the essential knowledge and understanding for the child development, covering reproduction, parental responsibility, antenatal care, birth, postnatal checks, care, and conditions for development, childhood illnesses and child safety.
Unit 2 R19 Understand the Equipment & Nutritional Needs of Children from Birth to 5 Years
Centre assessed tasks, OCR moderated. Approx 7-10 hours 60 marks (60UMS)
Students gain knowledge of the equipment needs of babies and young children and an understanding of the factors to be considered when choosing appropriate equipment to meet all of thee needs. They will also gain knowledge of nutrition and hygiene practices and will be given the opportunity to evaluate dietary choices.
Unit 3 R20 Understand the Development of a Child from Birth to 5 Years
Centre assessed tasks, OCR moderated. Approx 7-10 hours 60 marks (60UMS)
Students gain knowledge of and skills in, developing activities to observe development norms in children up to the age of five. The unit includes researching, planning carrying out activities with children and observing and reviewing these activities as well as understanding the benefits of play in child development
Students selecting this course from the taster will have hands-on access to our virtual babies Sarah and Alisha.