Art
"I found I could say things with colour and shapes that I couldn't say any other way - things I had no words for."

Georgia O'Keefe
We aim to provide a creative and stimulating environment for our students to work in and hopefully to provide them with a life long interest in the visual and applied arts.
Our classes are all mixed ability. We are committed to bringing into the studio diverse and multi-cultural stimuli which reflect the rich historical and geographical background of Art underpinned by firm technical and practical principles.
Carshalton High School for Girls specialises in the arts and humanities and we pride ourselves on exploring a range of media and subjects within the arts at Key Stage 3. We offer a number of exciting clubs such as art, textiles, and photography, competitions, and events within the arts aimed at these year groups. We run a range of courses at GCSE and A level including Art, Textiles and Photography.
We are a large department and have three art studios to work in, each allowing a different focus within the arts plus a Sixth Form work room for art, textiles and photography AS and A2 students. We have a photography studio which has a darkroom, studio space and computers with Photoshop access. We have a ceramics room and a kiln, a new large classroom to allow space for the fine arts and a room dedicated to textiles work with access to sewing machines. In addition to the teaching rooms we have a separate room for sixth form students to work and study in outside of lessons.
The Art department holds a yearly exhibition showcasing works from across the years which can be viewed here.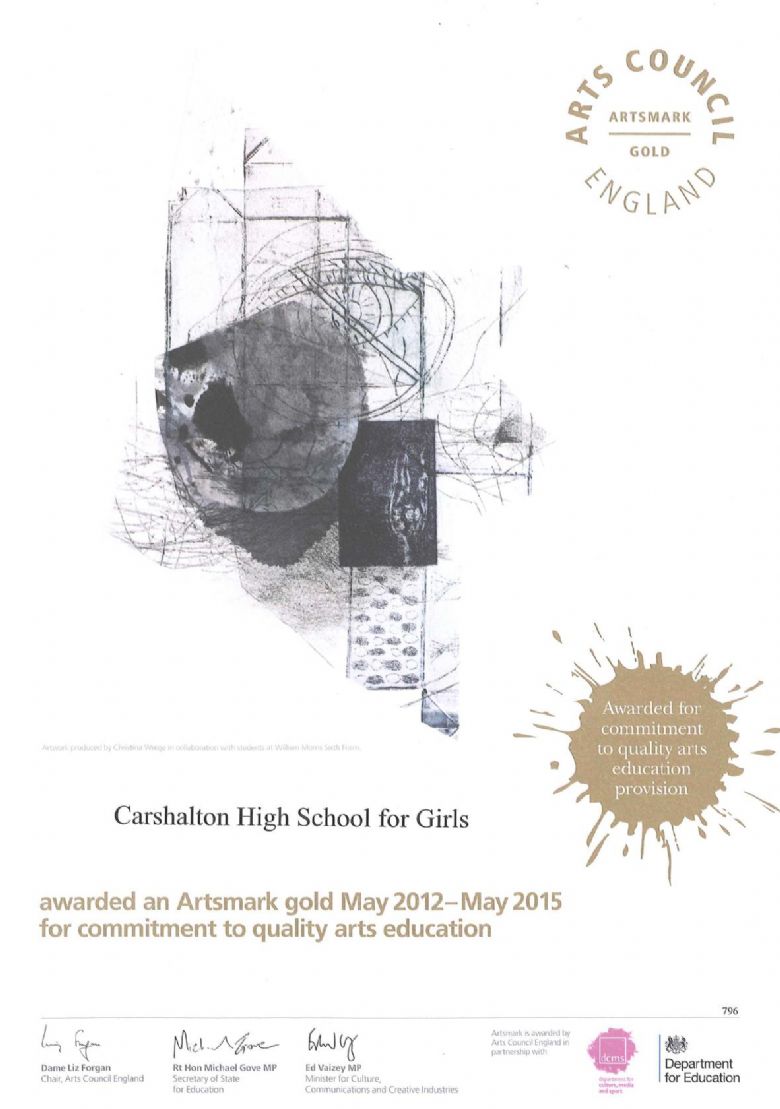 The school has been awarded Artsmark Gold for the fourthconsecutive time. The Arts are a real strength of the school and that is reflected in the school gaining this prestigious Gold Award once again.
The assessor's report stated:
"The school is working closely with partners to enhance the arts provision in the school. The range of projects that the school is involved with offers diverse experiences and challenging opportunities to the students.
The school has a culture of shifting teaching schedules to accommodate immersion days or cross-curricular work according to need. There is confidence and a passion around teaching creatively.
'A' Level students said they stayed on because the resources were superior and the level of support they received from staff was highly valued.
The commitment from the staff to productions, extra-curricular activities and the students themselves was impressive to witness. There is an efficiency and a reactiveness to the staff which is, again impressive.
I recommend without reservation that Carshalton High School for Girls be awarded Artsmark Gold. "
Department Staff