Careers Visit to Sandhurst (STEM)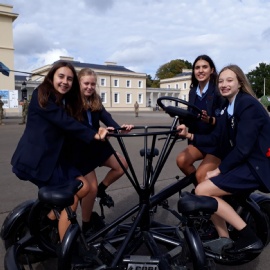 A group of Year 10 students had the opportunity to visit the Sandhurst STEM Careers Fair to research everything Science, Technology, Engineering, Maths (STEM) and Army!
Students were treated to an amazing day of activities aimed at broadening their knowledge about STEM careers in a wide variety of employment areas. Every student left the day inspired by the STEM Ambassadors and role models, activities, demonstrations and workshops.
Here are just some of the examples of STEM employment areas they were able to explore on the day:
Science: Royal Army Medical Corps, Innovate UK, GSK, University of Lincoln
Technology: Bank of America Merrill Lynch, PwC, Dell Technologies, Royal Signals
Engineering: Balfour Beattie, Royal Engineers, Kier, Network Rail
Maths: Ruralink, Roke Manor Research, Royal Logistics Corps, Techmodal
Our students had a fantastic day and were completely inspired by some of the careers they found out about.