Newsletter #5 20/21
Catch up with all the latest news about our Year Groups in the following newsletters from Heads of Year.for the 2 weeks ending 20th November.
YEAR 7
What a wonderful Year Group CHSG7 are proving to be! We have been delighted with the girls over this last week.
PSHEE Day
Our PSHEE day was a busy day with lots of new and important information for the girls to think, talk and write about. I could not have been prouder of the girls as they approached the day; their thoughtful comments and questions, behaviour with teachers they do not normally have and maturity were all excellent.
Remote Learning
Thank you for all the support you almost certainly provided to your daughter in preparation for and during the Remote Learning Day. One of the aims of a day such as this is to ensure that all our remote learning systems work effectively. If you experienced any difficulties please could you write a note in your daughter's planner with as much detail as possible for her Form Tutor's attention, or drop her Form Tutor an email and we will rectify the issue.
Golden Tickets
We will seek to recognise all those students who received 3 or more Golden Tickets in a week in this newsletter…here's the last two week's results! Well done everyone!
w/b 2nd November Golden Tickets
Chloe D 7PK2 4GT
Izi S 7RD3 3GT
w/b 9th November: Golden Tickets
Annabella C 7HL1 5GT
Hannah S 7RD2 4GT
Dena-Josephine N 7PK1 4GT
Rhemayah E 7PK1 4GT
Aleeza I 7HL1 4GT
Lillie-May H 7HL1 3GT
Emily W 7HL2 3GT
Abigail T 7RW2 3GT
Yi Nuo C 7HL2 3GT
Naomi B 7RD1 3GT
Siyona S 7RD3 3GT
Today is an excellent day for Year 7. Every single student (270) had their 4 pieces of Tutor Equipment (planner, reading book, lanyard, pencil case) – an enormous achievement for the year group. We recognise that some of the plastic wallets on the lanyards are suffering - if the plastic wallet has been permanently lost or broken rather than mislaid (I normally find one most days in the playground!) we have some spares. Tutors are speaking to the girls about this. For the sake of clarity, when we ask the girls to have their lanyards we are referring to the purple strap. If the plastic wallet is missing – this is fine, we can replace it.
Some parents have asked about equipment that the girls should have with them in their pencil cases. Please do refer to the photograph below to help with this.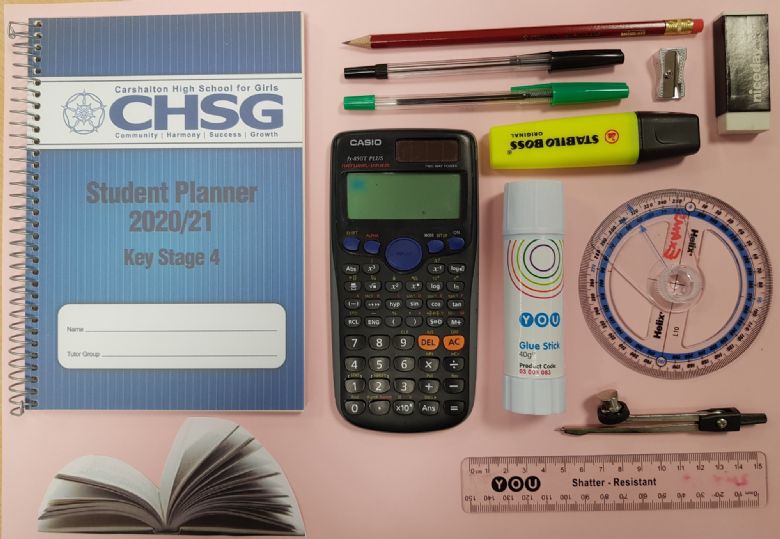 Finally, as always, please do contact your daughter's Tutor with questions or queries via email or a note in your daughter's planner and they will seek to answer such in a helpful way!
Have a wonderful weekend
Miss Stanley and the Year 7 Team
YEAR 8
It has been another busy and productive 2 weeks here at CHSG for Year 8; students have been busily embarking on their new topics/units in lessons and have had their first Learning for Life PSHE day (more on that later).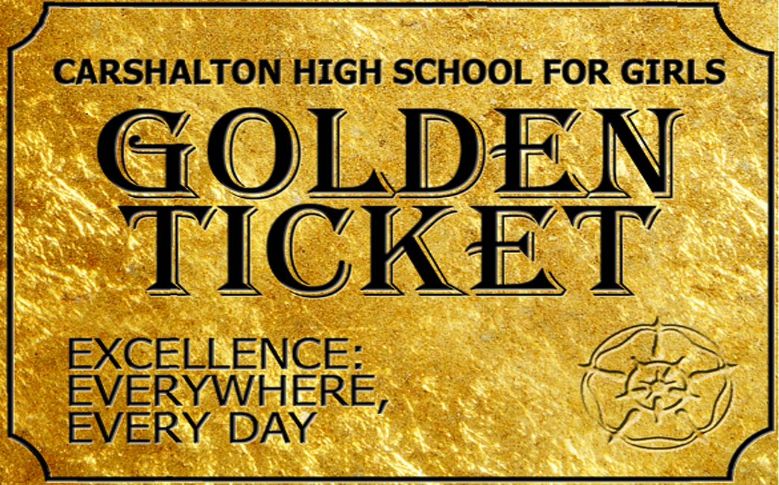 Golden Ticket Winners
It has been wonderful to see so many of our students being successful in lessons and being rewarded with Golden Tickets; over 70 students received Golden Tickets last week which is fantastic! There is 1 Golden Ticket available in every lesson taught across the school day and they are awarded to recognise students that demonstrate exceptional learning. We would like to especially recognise and congratulate the following students who received 3 or more Golden Tickets over the week:
| | |
| --- | --- |
| Megan W 8PK2 | 5 |
| Hattie M 8HL2 | 4 |
| April H 8RW2 | 4 |
| Tabitha F 8HL2 | 3 |
| Millie G 8PK1 | 3 |
| Eliza S 8HL2 | 3 |
Student Council Meeting
I would describe my first student council meeting as very organised and fluent, as well as formal. We discussed as a collective our thoughts about the behaviour system (golden tickets), the way in which we are handling the way we go about school during this Coronavirus crisis as well as inviting more traditions to the school especially in the course of Christmas as it is the season of giving.

In turns we took the time to share to the other students issues that other students had been dealing with, for example how durable the booklets are, along with rules, policies, detentions and equipment, including consequences due to lack of resources.

We then had a brief visit from our Headteacher, Mr Devenney, who explained how proud he was of us for earning this position; he also stated how he couldn't wait to see what ideas we brought to the table and that together we could not only become the best school in Carshalton but in the country!

By Flavia S 8RD2
Learning for Life PSHE day
On the 16th of November 2020 CHSG had a PSHE day. Every year group studied five subjects to do with mental health and well-being.
Year 8 studied: what is mental health; self-image; keeping safe from abuse; bullying behaviours and stress management.
The first topic we learnt about was what mental health is. In this topic we studied signs of mental illness, different types of mental health conditions and the statistics of mental health in the UK. Then we watched a video talking about how people can maintain positive mental health such as reading, writing, singing and dancing or just activities and exercises or general things that you like to do.

Our second topic was self-image and in this we studied what is body image. We answered questions and gave our own opinion such as how people change their bodies, or how celebrities influence our own body image. I thought that this was good to talk about and remind ourselves that what we see isn't always real on social media, as it is very easy to be influenced by social media, especially our generation. Then we created a wall of ideas to suggest how someone can prevent low self-esteem and therefore improve their body image for instance, have a limit on social media or help others be positive about their body image, as doing good things can make you feel good as well!

Next, we talked about keeping safe from abuse, we learnt about different forms of abuse such as: physical abuse, neglect, emotional abuse, bullying and harassment and sexual abuse. We also learnt about different websites that can support you such as Childline and other trusted people.

Following that we learnt about bullying behaviours. We identified the 6 types of bullying such as workplace bullying, homophobic bullying, isolated bullying, cyber bullying, physical bullying and verbal bullying. Next, we created a wall of ideas about what someone can do if they are being bullied such as tell a trusted person. We also learnt how to deal with conflict during this session.

The last subject we learnt about was stress management; in this we learnt about the top 5 things that boys and girls of secondary school age stress about. We made notes of what you can do when you are feeling stressed such as take a nap or open a window and listen to nature. To conclude the session we self-evaluated about why it is important to be able to manage stress and wrote down useful strategies to help deal with stress.

I think this was a beneficial, thought-provoking day because we had the time to reflect, listen to each other and share our thoughts and feelings, which allowed us to be more aware of these issues.

Jasmine I, 8RW2
Equipment
On the whole our students are coming to school very well equipped, but we are starting to see some students being lax about bringing in parts of their equipment like calculators and silent reading books. This is a reminder that the items in the photo are the key basic equipment that students are expected to have on them at all times when in school. This week Year 8 was also issued with a mini whiteboard, pen and plastic folder for their booklets. The whiteboard and pen need to be brought in every day too so they can be used in lessons; they will allow teachers to use AfL methods in lessons to quickly assess and judge learning and identify which students may need further support to understand key ideas.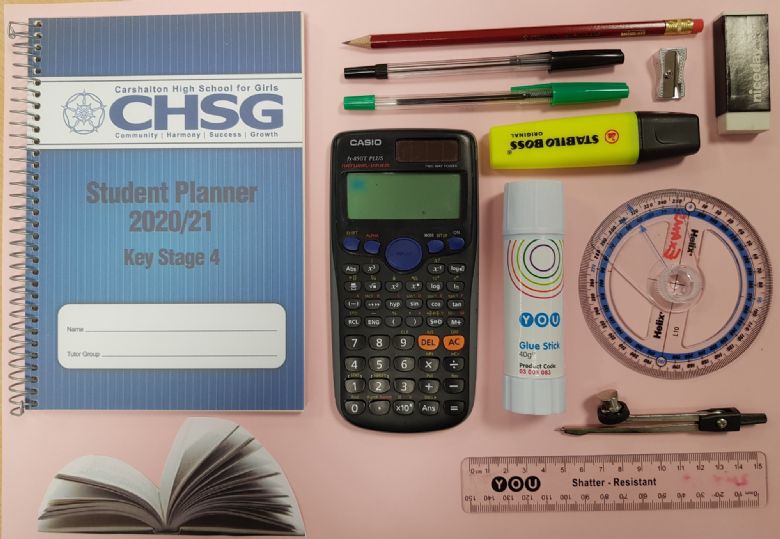 We have received concerns from some parents about other parents mounting and parking on the pavement by the Year 8 entry/exit gate to drop off and pick up their daughter. The pavement by the Year 8 gate is already very narrow, currently obstructed on one side by a huge pile of leaves and it is very busy with our students and other pedestrians going to drop off/collect children from the two nearby primary schools. For those of you who do drive to drop off/pick up your daughter please can we ask you to be mindful of how dangerous it can be for pedestrians when mounting the pavement/parking on the pavement? We absolutely would not want any horrible accidents happening as a result of thoughtless/mis-judged parking. It is best if parents can drop students off further away from the school and for students to walk an extra few minutes to get to the gate.
Environmental Inspiration
The Woman's Hour Power List 2020: Our Planet has been revealed! This year Woman's Hour is celebrating 30 inspiring women whose work is making a significant positive contribution to the environment and the sustainability of our planet.
The problems our planet is facing can feel overwhelming, but these women prove that everyone can make a difference in their own way through creativity, optimism and enthusiasm.
This year's list is designed to reflect the huge range of roles that are essential to environmental work. Rather than a classic definition of power, the list is made up of an eco-system of women who have power in lots of different ways, but who are all essential in looking after the planet.
Everyone on the list is based in the UK and falls into one of five categories: Decision-makers, Innovators, Communicators, Campaigners and Volunteers.
This week I would like to feature 2 of the women from this list in the hope of inspiring our Year 8 community to continue doing their bit for the planet. Who knows- we could even be seeing some of our own Year 8 students names in this list in 10 years time!
Farhana Yamin Lawyer
Farhana Yamin is "a powerhouse of climate justice" according our judges, and has been advising leaders and countries on climate change and development policy for over 20 years. Her work as an Environmental Lawyer at the highest levels of climate negotiation is unparalleled. Farhana was an advisor to the Republic of the Marshall Islands for the 2015 Paris Agreement. She played a key role in building the High Ambition Coalition, which advances the climate-positive work of 35 countries, and founded Track 0 to provide strategic training and advice to government leaders, businesses and communities trying to become more sustainable. At the moment she's working to empower people to bring about the changes they want to see at a local level, including setting up the Think and Do Community Climate and Eco Action pop-up in Camden where people can discuss ideas. She wants to prove that individuals really do have power when they work together.
Rosamund Kissi-Debrah, Founder of The Ella Roberta Foundation
Rosamund is a tireless voice for clean air following the tragic death of her nine year old daughter Ella in 2013, from a series of severe asthma attacks. Reports linked Ella's death to dangerously high levels of pollution near their London home and Rosamund has since become a powerful grassroots campaigner driving real change. She is now a World Health Organisation Advocate for Health and Air Quality, and works with the Mayor of London on the Healthy London Partnership. Her work has boosted the global conversation around air pollution, and has contributed to the Ultra-Low Emission Zone being expanded around London.
Miss R Kelly-Smith and the Year 8 Team
YEAR 9
Ambassador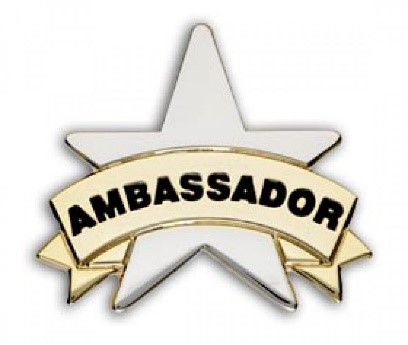 Year 9 students are given the opportunity to apply to become part of the Year 9 Ambassador Team. This is a very important role within our school and provides the opportunity to develop a variety of different skills ranging from communication through to team work.
These are some of the students' views about becoming an ambassador.
As an ambassador, we are a role model and positive example to other students, visitors and members of the public. We are the Face of CHSG! #TeamCSHG

There are several different duties and roles which you could be called upon to carry out whilst being an ambassador.

These could include:

Giving tours of the school for prospective parents, students and prospective teachers
Meeting and greeting visitors to the school
Providing tea and coffee for staff at parents evening
Ushering at events such as the dance evening or school production

A position within school like this will be good for our CVs and make us more interesting to employers, colleges and universities. It will show we are trusted, respected, that we have leadership skills and that we are reliable.

Now we have written out letters of applications, the next step is the interview with Ms Brice.

Good luck everyone!
Design a Poppy
Sadly, our traditional celebration of remembrance had to be altered in line with Covid 19 protocols but we did not want to let Remembrance Day slip by without any recognition, so the House Team decided to run a "Design a Poppy" competition in support of Remembrance Day. Students were asked to design a poppy, which illustrated the meaning of Remembrance Day. There were some amazing designs in Year 9, We certainly have some very talented and creative artist out there.
Form Captain
Being one of the year 9 form captains has been a wonderful experience for me so far. Some of the things we is to listen to our forms' suggestions and take them into account when we have our meetings with various members from SLT.

For example, last week as a form we discussed the pros and cons of the Behaviour System and what needs to be done to improve it. In addition, we also talked about the new golden ticket award that was put in place a couple of weeks ago. Some of the pros were that they were hugely awarding and competitive. It was also a good idea as it meant that the teachers showed appreciation for the students' work and participation within lessons.

Some of the qualities needed to be a delegate form captain is that you need to be inspiring, creative, positive, and confident and have good teamwork, leadership and communication skills. Also commitment is key as you need to be willing to help out whenever needed and take on the role as an ambassador.

Mya K, 9PK1
Golden Tickets
As you are aware we have introduced our new rewards system and the girls are working really hard to earn the top achievement award of the Golden Ticket. Each fortnight we will announce the top Golden Ticket achievers in Year 9.
For this round the top achievers are –
Iman A 9RW1 – 4 Golden Tickets

Connie B HL2 - 4 Golden Tickets

Mya K 9PK1 – 4 Golden Tickets
Congratulations to you all.
Visual Arts
Exciting news! The visual arts department has a brand new Instagram account. Please use the link below to access the account, you never know when your art work may be displayed!
https://www.instagram.com/chsg_visualarts/
Organisation
Finally can I please ask that you support your child in organising herself well for school.
Along with appropriate booklets for lessons, correct uniform, mask, Year 9 lanyard and hand sanitiser please see below the items that the school considers essential for every day.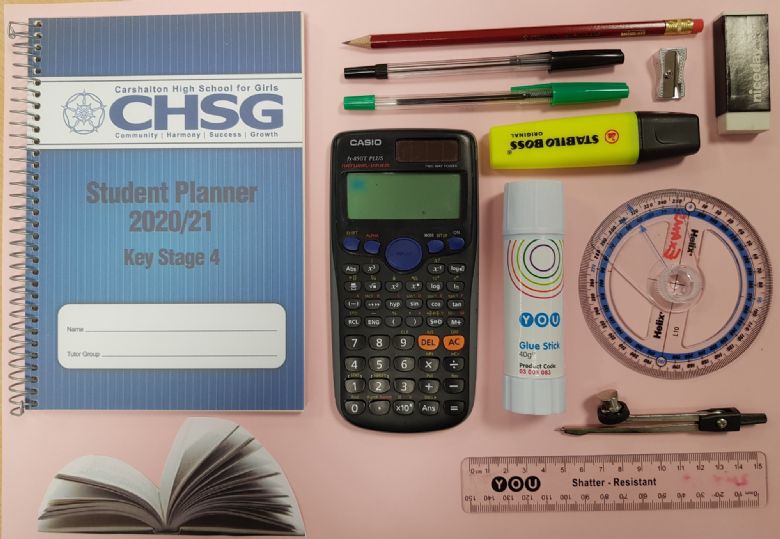 And finally
Finally a really positive message from our amazing Business Studies Department
'Lovely doing business with you'
Our business students are working incredibly hard and have made a very positive start to their new course. We have carefully explored the skills and qualities needed by entrepreneurs having looked at many well-known business people. The girls were also able to apply this to entrepreneurs within their own family groups.
The business team are really encouraged by the creativity we are seeing as we currently task the girls with creating their own ready meal. Their work allows them to consider branding, logo design and research of this very competitive market.
We look forward to seeing their completed proposals towards the end of term and we will all have a chance to hone our best Dragon's Den persona as we select products most likely to succeed. #teambusiness
Mrs N Devaney and the Year 9 Team
YEAR 10
Today we welcome back Year 10 students from remote learning. I know this has been a very stressful and anxious time for some of the students. I have been so proud of the way the students have conducted and handled themselves during this difficult time. It has been lovely hearing such positive comments from staff about how engaged and focused the Year 10's have been with their online lessons.
It is vital with remote learning that all students register ever morning so the school is aware they are ready for the day. Lessons will always be in the form of a mixture of MS teams live lessons, talk over PowerPoints and tasks set on show my homework. Students need to check show my homework and their emails every morning to see what work is expect
Remote Learning Experience:
"I never thought 2020 would include school being at home! Despite some students and teachers finding it hard to use online classes they were very resilient and our teachers helped us all very well in the circumstance. It was good that we could ask questions directly which helped me understand the lessons more. Working from home was much easier due to the practice we had a few weeks ago and now we will all be extremely prepared for the future just in case." Jessica. G
"Remote learning was hard but very helpful. My teachers gave me lots of work to keep me very busy! It is easy to procrastinate but the online classes gave a sense of responsibility. Online lessons were very useful and it was easy to ask questions without disruption." Kaylia RG.
It is important that we continue to work together to help prevent the spread of Covid 19 in school. Please can I ask you help remind and discuss the following with your child.
How to stop COVID-19 spreading
There are things you can do to help reduce the risk of you and anyone you live with getting ill with COVID-19
Do
wash your hands with soap and water often – do this for at least 20 seconds
use hand sanitiser gel if soap and water are not available
Wash your hands as soon as you arrive at school, at the start and end of each lesson and when going home.
cover your mouth and nose with a tissue or your sleeve (not your hands) when you cough or sneeze
put used tissues in the bin immediately and wash your hands afterwards
Wear a face covering while at school or on public transport unless exempt.
Further information is available at https://www.nhs.uk/conditions/coronavirus-covid-19/
Organisiation
Now we are back can I please ask that you support your child in organising themselves well for school.
Along with appropriate booklets for lessons, correct uniform, mask, year lanyard and hand sanitiser. Please see below the items that the school considers essential for every day.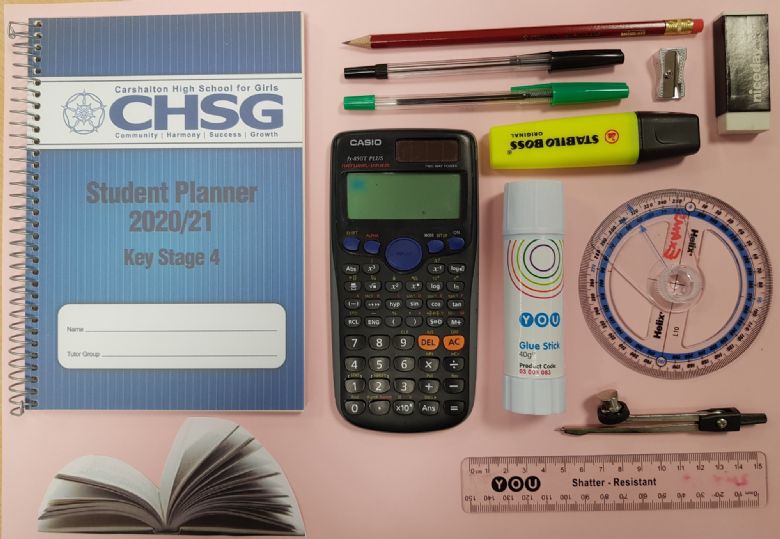 Golden Ticket
As you are aware we have introduced our new rewards system and the girls are working really hard to earn these in lessons. The students from each year group with the most Golden Tickets will receive a certificate from the Headteacher and will be announced in our next year 10 newsletter.
For this round the top achievers are –
Week of the 9th November-
Gabriella SB- 5 Golden Tickets

Kaylia RG- 4 Golden Tickets
Week of the 16th November-
Jada A 10RD1- 3 Golden Tickets
Congratulations to you all.
Miss Marshall, Ms Johnson and the Year 10 Team
YEAR 11
We have had a whirlwind couple of weeks here at CHSG. Below is a brief update of all the activities and events we have been running
PSHE Day
Year 11 were involved in the whole school PSHE Life for Learning Day. This consisted of students learning and discussing topics that were aimed at raising awareness of different well-being situations that could affect them directly or those around them. All students conducted themselves with great maturity and gave their full attention throughout all sessions delivered by the Year 11 team. It was encouraging to see students transfer knowledge from other subjects when involved in the different sessions. This was a truly successful day for all!
Here is what one of our Deputy Head Girls had to say about the PSHE Day:
On Tuesday, Year 11 completed a variety of PSHE lessons on various topics relating to well-being and options that individuals have when it comes to making decisions about life-changing choices. The topics were relevant and could help us with problems we or our family/friends may face in the future. During each lesson, teachers worked through a PowerPoint and showed videos around the topic. There were frequent questions which allowed us to debate and share our opinions on the topic of discussion. Also, there was a lot of information and examples so we could educate ourselves and develop our opinions further. As we worked in booklets, it means that we can refer to them for future reference, as all the information is in one place. Having the PSHE day was a good break from usual lessons and they were worthwhile since we were still learning useful information. Aaliyah F W
Golden Ticket
The Golden Ticket reward programme has got off to a wonderful start, with students being identified by their teachers for having excellent learning attitudes in lessons. Tickets are kept in the student's lanyards and shared with those at home.
Mr Devenney has definitely been busy making personal visits to award the top achievers of Golden Tickets for each week. The following students have been visited by Mr Devenney and presented with a certificate:
Fatima H

Kitty S

Georgina L

Eve T

Marium S

Daisy B

Malika W

Manale B

Missy B

Rakchene S

Eileen D

Alex F

Emily H
Well done to all who have been receiving Golden Tickets!
We look forward to seeing, and celebrating, more Year 11 students being presented with a certificate by Mr Devenney.
Student Leadership
The school council had their first meeting on Wednesday 11th November 2020, where student voice was shared about various matters pertaining to school life and beyond. The future meetings, with representatives and members of the student council, will continue to review aspects of school life and implementing changes in regard to topics raised by the student body.
Equipment
Being prepared is always an advantage for any changes that may occur during the course of the day. Good organisation is essential to school life! Students are expected to have the correct equipment for each day, in addition to their workbooks for each subject. Please refer to the image below to see what items students are expected to have every day.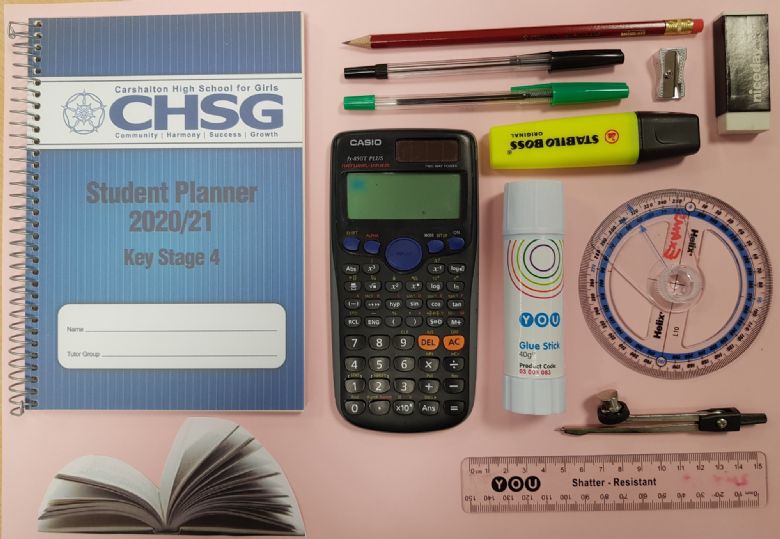 If obtaining any of these items is proving difficult, please do not hesitate to inform a member of the Year 11 team (e.g. Head of Year, Form Tutor, and Assistant Head of Year)
House Poppy Design
Students were encouraged to create their own Remembrance Art piece for Remembrance Day. Students were given a blank poppy to design what Remembrance Day meant to them. The school, as a whole, were paying tribute to the men and women of the Second World War generation, and to those of today, who are serving and sacrificing to defend our nation from threats of all magnitudes – most notably all the front-line workers during this pandemic.
Visual Arts Instagram Account
The new Visual Arts Instagram is live: displaying students' work and providing information about different aspects of art. Check out what has been uploaded already:
https://www.instagram.com/chsg_visualarts/
Women's Hour
BBC Radio 4's programme, Women's Hour, is celebrating 30 inspiring women whose work is making a significant positive contribution to the environment and the sustainability of our planet.
This year's list is designed to reflect the range of roles essential to environmental work. Rather than a classic definition of power, the list is made up of an eco-system of women who have power in lots of different ways, but who are all essential in looking after the planet.
Everyone on the list is based in the UK and falls into one of five categories: Decision-makers, Innovators, Communicators, Campaigners and Volunteers. You can find out more about these women by clicking on the link below:
https://www.bbc.co.uk/programmes/articles/5f6X3JsVjcGXfXstdbYxhkk/womans-hour-power-list-2020-the-list
Final words
We are grateful for your continual support and communication with the school. We strive to deliver the best opportunities for your child and put in place relevant support systems to see them through each day.
If there are any queries or even achievements of your child from activities outside of school, please do not hesitate to get in contact.
Mr J Stockwell and the Year 11 Team
SIXTH FORM
It has been a busy week for students in Years 12 and 13. On Tuesday, the whole of the Sixth Form where involved in The Life for Learning Day, the theme was Health and Well-being. I was able to drop into all of the sessions and I was really impressed with the engagement and focus of all the students in the 5 sessions which ran.
PSHE education is really important because it helps children and young people to identify, celebrate and manage the many personal, economic and social challenges they face, while they are at school, and in the future.
I have also placed below a link from The Woman's Hour Power List 2020, celebrating 30 inspiring women whose work is making a significant positive contribution to the environment and the sustainability of our planet. I thought that this might be of interest.
https://www.bbc.co.uk/programmes/articles/5f6X3JsVjcGXfXstdbYxhkk/womans-hour-power-list-2020-the-list
Exams
Next week we have exams week for year 12 and the PPEs for year 13. All students have their exam booklets to support them and students can also refer to the year 12 and 13 SharePoint site with lots of information that will help your child prepare, such as videos and resources on effective revision, exam stress management and well-being. Your child will be able to access this from home and so please do encourage them to spend time looking at these resources as they have been made to support and encourage your child to ensure they are successful this year.
To further support the students with their studies, the upstairs workroom in the Sixth Form block is now a silent workroom.
Golden Ticket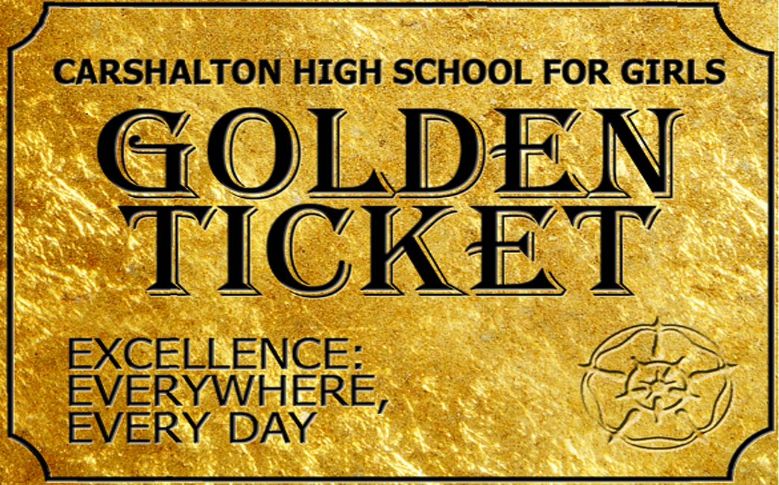 It is encouraging to see more and more students receiving achievement points and Golden Tickets, well done to the following students who received the most in their year group and will be receiving a certificate form Mr Devenney in acknowledgement of this.
Year 12
Selina J
Pramila M
Carly D
Year 13
Sophie B
Afua S
Student Leadership
The student council met for the first time this week, and the meeting was successfully chaired by our Student Leadership Team. We will be sharing the feedback with you shortly.
UCAS
Students are now in the process of sending off applications and receiving offers from universities, which is really encouraging.
When students receive an offer, it is important that they make a firm and informed choice. We will be sharing information in the new year with parents and guardians about student finance.
Any student following a different post 18 pathway will be meeting with Mrs Phelps-Gardiner, our careers advisor, to help them explore the appropriate pathway.
High Expectations
We continue to strive for excellence throughout the school and focus on FINEST now to support this.
Thank you again for your continued support. #teamchsg.
Please do not hesitate to contact your daughter/son's tutor with any questions or concerns that you have, and they will be glad to help or please email me.
Mrs B Norman, Assistant Headteacher/Director of Sixth Form