Faraday Science Challenge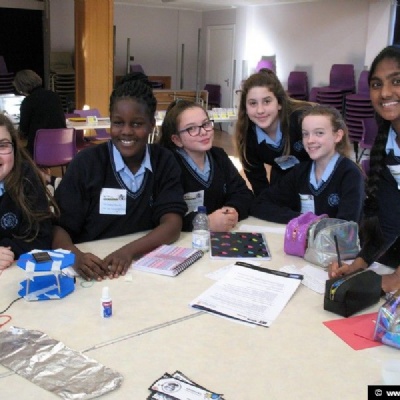 During November 12 Year 8 students participated in the IET (Institute of Engineering) Faraday Challenge Event at Wallington High School for Girls
During November 12 Year 8 students participated in the IET (Institute of Engineering) Faraday Challenge Event at Wallington High School for Girls
The Faraday Challenge gives students the opportunity to research, design and make prototype solutions to genuinely tough engineering problems. The Challenge was about getting students to be creative and use their problem-solving skills to explore their capabilities as engineers. The students had to make a piece of technology to assist with the James Webb Space Telescope, observing some of the most distant events and objects in the universe.
Students were split into teams. There were six teams competing against each other. Two each from Nonsuch High School for Girls, Wallington High School for Girls and CHSG.
CHSG were the overall event winners. They built a moisture sensor to help with transporting the telescope to the launch site. At all times, the telescope has to be free of dirt, moisture and dust. It was exciting and challenging but the winning group overcame all the problems they faced.
| | | |
| --- | --- | --- |
| | | |
| | |
| --- | --- |
| Winning team members | Second team members |
| Deepika | Maryam |
| Lauren | Muzaina |
| Jocelyn | Louisa |
| Sumner | Nawal |
| Erin | Gabriella |
| Macy | Charlotte |