Amy's Sporting Experiences

Amy, 7SBA, met some sporting Legends last month.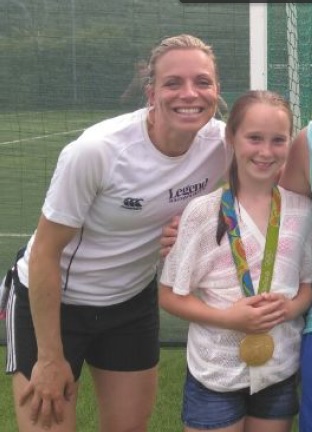 Amy, 7SBA, met some sporting Legends last month.
Here is a picture of her with Rio Olympic Gold medallist.
Kate Richardson-Walsh.
Amy is one of our scholarships students and we asked her a
few questions about her first year at CHSG:
Question 1: What are your favourite lessons and why?
PE and Dance are my favourite lessons in school because
they are interactive with other students and are enjoyable
for everyone - even if you are not sporty.
Question 2: What extracurricular clubs do you go to?
CHSG offers a variety of different clubs run by most
departments and are welcoming for people to join up. I am
part of the rounders team, the football team and many
dance clubs. One dance club, run by Miss Johnson, is called Elite Dance Company which performs at
competitions and school shows.
Question 3: What teams do you represent at CHSG?
I represent the rounders teams which goes to different games and tournaments at schools in Sutton.
I am also part of the Girls Football Team which also travels around playing matches.
Question 4: What have been your highlights this year?
My highlights of this year have been going on some amazing school trips. I have been on a theatre
trip with the Drama Department (run by Mr Wells and Mr Rogers). I have also been on a PE trip to
Loughborough University which was amazing because we got to experience what university is like
and got to visit all of the facilities they have to offer.
Question 5: What advice would you give to the new Year 7 students coming in September?
One main piece of advice I would give would be to get involved in as many clubs as you can because it is
a way of making new friends and you will learn so much from it.
Question 6: What extracurricular clubs do you do outside of school?
I play rugby for Sutton & Epsom U13s girls team, go to a tennis club, am part of a Scout Troop and
do five different types of dance. Doing these clubs has enabled me to make many new friends and
learn some key skills in life that I will need when I am older.
We would like to congratulate Amy on all her achievements and contributions to school life at CHSG. She is an inspiration!