UK University & Apprenticeship Virtual Fair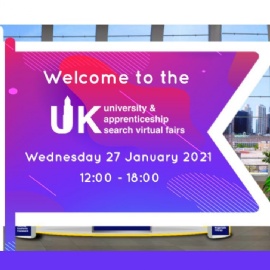 The UK University & Apprenticeship Search Virtual Fair will be held on Wednesday 27 January
The first of these events will be the UK University & Apprenticeship Search Virtual Fair which will take place between 12 and 6pm on the 27th January. This free virtual event for students in years 11, 12 and 13, will feature a diverse range of exhibitors and vital webinars. Students, teachers and parents can find out more and sign up here.
https://ukuniversitysearch.vfairs.com/
Meet the Russell Group Virtual Event - Wednesday 10 February
Our joint event with the Russell Group Universities will also be returning on the 10th February from 12 to 7pm. This spring's event will see all 24 universities once again, as well as a new line-up of webinars and virtual tours from each university. You can find out more and sign up here, https://russellgroup.vfairs.com/ and please see below for the warm-up webinars which will accompany the event on Weds 3rd and Mon 8th February.
Join us in the week leading up to the virtual event for a series of webinars introducing students to the Russell Group Universities. Each webinar will feature presentations from a range of universities, and the opportunity to ask questions to ensure students are ready to make the most of the event on Wednesday 10 February.
Year 12: Embarking on University Research
Wed 3 February | 12:00
https://vfairs.zoom.us/webinar/register/WN_WV3dVX9HSz-ZpJV4rJv5ig
Year 13: Making your University Choices
Wed 3 February | 12:00
https://zoom.us/webinar/register/WN_DE0KJPZbQ6OZWIO7ho5WjA
Student Life at Russell Group Universities
Mon 8 February | 16:30