Barrister's Seminar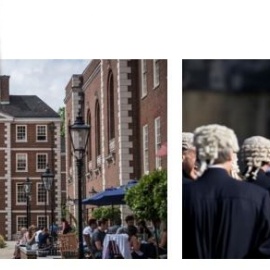 I visited The Inner Temple in London for a Barristers' Seminar.
We listened to Judge Tan Ikram on his journey to becoming a barrister and then a judge, which was very insightful. We enjoyed a really posh lunch and had the opportunity to speak to barristers during the meal.
I spoke to a criminal barrister, which is a career I am really interested in pursuing, so it was great to hear from her what it was like to do her job and the challenges and rewards that come with it. After that we had a panel session with five barristers from different sectors and it was interesting to hear the differences in their chosen specialisms and what their typical day or week in their life would look like. We got to ask them questions so we got an insight into all the dimensions of being a barrister that people are not typically aware of such as how expensive it is to become a barrister, the struggles of being self-employed, the traditions in practising law such as special attire in court, formal dinners and much more.

At the end of the day, we were split into teams and looked through several cases and built up a case for our 'client' – then we shared this with everyone else in the room and received guidance and feedback from the barristers to help us think how we could best support our client. Following that we had a discussion on other real life cases and the rights and wrongs within it, it was challenging particularly looking at one case involving a husband killing his wife to end her suffering with dementia. The barristers really challenged us on our opinions and pushed our thinking so we really had to think where we stood in the debate and how to advocate our points of views successfully.
The day was fantastic because I came away knowing so much more about becoming a barrister, I made some connections with professionals and I was really pushed with my critical thinking, which is so important for lawyers and can help in any field you choose to go in.
Ella, 12MPN