House Debating Club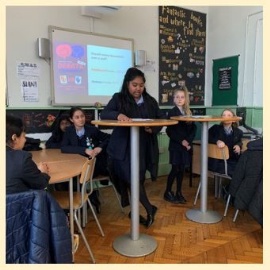 The first CHSG House Debate was held at the start of the Spring Term.
Students from Years 7 and 8 have learnt some debating and research skills and, as House Teams, debated for and against the motion: All Households Should Own a Pet.
Each team presented good arguments and answered questions from the audience well. Thank you to Mrs Phelps- Gardiner, our new Careers & Work Experience Coordinator who judged the competition.
Congratulations to Roddick House who came first with Pankhurst a close second. Well done to all students involved.
House Debating Club for all year groups is held Tuesday lunchtimes in the LRC