Dan Smith - Author Visit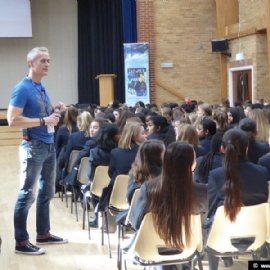 On Tuesday 5th March, as part of this year's World Book Day celebrations, award-winning author, Dan Smith, visited the school to talk about his new book and his writing experiences.

About the Author: Growing up, Dan Smith led three lives. In one he survived the day-to- day humdrum of boarding school, while in another he travelled the world, finding adventure in the paddy fields of Asia and the jungles of Brazil. But the third life he lived in a world of his own, making up stories . . . Which is where some people say he still lives most of the time. Now settled in Newcastle with his wife and two children, Dan alternates between writing for adults and for children.
Dan spent time talking to CHSG students and visitors from a neighbouring primary school about his writing experiences and his novels. He introduced the students to his new book 'She Wolf' and they were able to buy signed copies at the end of his presentation.
Dan also agreed to be interviewed about his writing and reading favourites a video of which can be seen here:
We look forward to Dan's next book and next visit!