Livery Schools Link Careers Showcase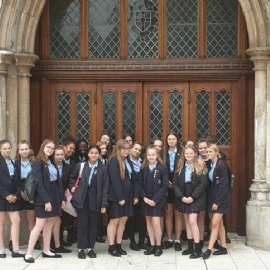 On 19th June Students went to the Livery Schools Link (LSL) Annual Careers Showcase event, at Guildhall Yard.
At the event City Livery Companies showcase the wide cross-section of industries, trades and professions they represent.
This was a dynamic and vibrant event aimed to signpost students to a broad range of career paths and job opportunities across many disciplines. It presents a wide variety of roles that can appeal to students of all abilities and ambitions.
Talking to people from the trades and professions in an informal atmosphere is a wonderful opportunity for students to broaden their employment horizons and raise their aspirations. Many of the stands were interactive and young representatives and apprentices were available on the day to talk to students.
"The event made realise there are a lot more jobs out there than I thought."

Shannon
"I learned about different jobs and what they involve. I liked joining in on different activities"

Lily