My Wellbeing Day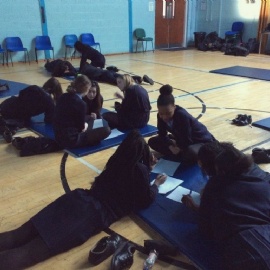 Wellbeing day is a day to focus on ourselves and how the way we live and the things we do can also affect our later lives.
During form time that day we were discussing what we would like to do with our lives and what we want as careers and how we wanted to live our lives after school. I talked about how I wanted to go in to a job that would use my product design and maths skills as they are my strong subjects. In period one and two we were discussing where, how and who we get our money from. I learnt quite a bit in that lesson about how the jobs you think would get good pay aren't as high as you think and that for our country the average amount a year is £25,000 which may seem like a high number but overall isn't really much after all your insurance, bills and taxes are all taken out.
Period three was even more interesting as we had two ladies come in and talk to us about Muslims and Jews and how they are discriminated from others. We learnt about the different ways of Jews and Muslims are put into stereotypical categories which for some people who are Muslims and Jews aren't correct and how they are. This was a very interactive lesson as we were all able to voice our opinions.
Period four was very much about us and what we believe in and how we think the world should be and how there is a lot of discrimination not just to race and religion but age, gender and even classes. We got to discuss about what we agree with and disagreed with in our country for example in the business world many employers wont employ women who are married as they expect them to have children and need to have money when they go on pregnancy leave even though they are not working etc.
Period five was shocking for all of us as we learnt so much about what millions of people agree to on an everyday basis. When we download the apps Instagram and Facebook you are agreeing to them owning your information, pictures and profile. These businesses have the right to sell your information and give your pictures to different companies even if your accounts are private.
Overall I think the day was very interesting and really enjoyed the workshops and would like to have another day like this.
Carys, 10RW2