Year 9 Aspirations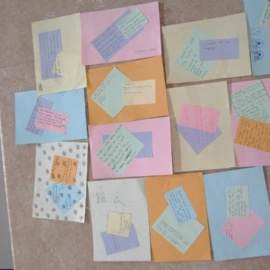 Year 9 students have been discussing their aspirations.
The students were encouraged to think of what they hope to achieve in the future.
Students were asked to think of at least one career aspiration: what they hope to realise at Carshalton High School for Girls or goals they have outside of school. They discussed these in pairs or small groups allowing them to identify and share hopes and ambitions with their peers and with their form tutor.
The aim of this activity was to inspire the students and to get them to consider their futures.
At the end of the week students then collated their aspirations to create an Aspirations Quilt, made up of all the hopes and goals of Year 9 students. This will be displayed in the school, and can be used as a continued source of inspiration as students' progress through Year 9 and their GCSE exams.
Mrs Gill, 9PK1 Tutor