Reaching Out
If you could thank someone in the community who would it be?
You could choose staff at a care home local to you, a key worker like the postman or milkman, bus driver or supermarket cashier.
You could write an open letter to any of these wonderful people who are working so hard.
If writing isn't your thing you could do a piece of art for their wall or bake something for them to share?
This is all about showing that you care, however you do it is great!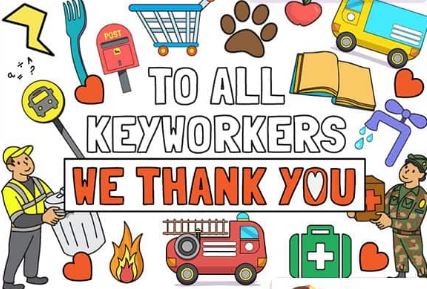 Here is an example from one of our Year 8 students:
To our nation, our country, our family

I would like to start my speech by thanking all the wonderful staff who have sacrificed their lives in order to help our nation overcome the vast outbreak of the pandemic.

As from the last couple of weeks, there has sadly occurred to be a lack of Personal Protective Equipment. It has come to my concern that the abject failure to provide PPE has caused a major disappointment to some and an even challenging time for many.

However it has been a relief to hear that CHSG have been putting their hard work and commitment into helping NHS workers and other key workers at St Helier Hospital by fabricating full face masks and stitching scrubs for local care homes. Not only, that but they've been using their kitchens to cook meals for NHS staff and key workers using the ingredients they currently have in stock. It is incredible to see the amount of dedication they've put in, in order to defeat the spread of the virus.

Once again, I am thanking those who have been taking part in the Clap for Our Carers in these past weeks. Showing great appreciation and significance really matters to our nation and for all. This campaign was held to pay tribute to NHS staff and other key workers on the front line. Week by week I see more and more people showing their support and lifting morale. It makes an unbelievable difference to the lives of us all in these challenging times.

If we all stay united, come together as one and abide by the government's regulations. We need your help, your commitment, your dedication, your devotion. Only then we shall defeat the spread of corona and come back to the normality of life.

Thank you.