Young Enterprise Success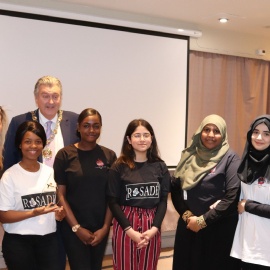 On Wednesday 1st May, our Young Enterprise Company, Rosade, battled stiff competition from local schools in Sutton and Merton, in the Young Enterprise End of Year Showcase, at Holiday Inn, Sutton.
The were successful in being one of two winning companies to go through to the South London Final at Fieldfisher law firms, central London, next Friday.
As well as this, they also won the prize for best Teamwork. They had to give a presentation, set up their trade stand, and be interviewed by a panel of judges made up of local business leaders and councillors. The presenters were: Ella, Fizza and Zehra, with Rahel (all from 12MPN) providing the technical support!
Rosa​de with the Mayor of Sutton, Cllr Steve Cook, collecting their awards on Wed night - Sutton and Merton Overall Best Company Runners Up Award, and Best Teamwork Award.
The company raise awareness of issues about domestic violence by selling branded products at trade fairs, in school, and through social media. The judges were particularly impressed with their team organisation, and the passion they displayed for their business.
Good luck on Friday 10th May!!