Geography Field Trip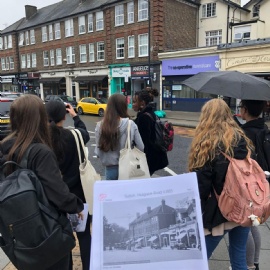 As part of our topic 'Changing Places in Human Geography', a unit of the A-Level Geography course, we chose Sutton as our local case study.
Students had a booklet which included 10 old pictures of Sutton landmarks 70-120 years ago. They had to find the places based on the old pictures and take new pictures with the same camera shot compared to the old picture.
There are lots of changes in physical and human features in the area. Students will produce a report on these changes to consider the regeneration and gentrification in Sutton.