Headteacher's Message 19th June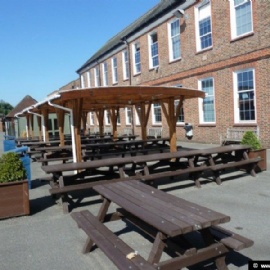 We started the first week of our face-to-face sessions this week and it has been great to see the girls returning with such enthusiasm and determination to keep their education going throughout.
We hope you enjoyed our staff video last week. The school is very quiet without our wonderful students being here and we miss them very much – I am certainly looking forward to a time when we can all be together again.
Work from School
We continue this week with work in subject booklets. Thank you for the incredibly positive feedback we have received about the quality, layout and structure. We will continue to send you a weekly overview of the work that is due that week and the girls will still receive a record of the work on Show My Homework each day to help them remain organised. Our staff are very busy creating the next round of booklets for September. This ensures we are prepared for any eventuality and the booklets can be used at school in lessons or at home if needed when the new school year starts. These booklets will remain a key focus of our curriculum here at Carshalton High School for Girls moving forward.
Online MS Teams sessions for Y10/12 & Face to Face sessions
We have progressed onto the extended offer for Year 10 and 12 through the online curriculum and face to face sessions. Except for one or two technical difficulties the first week has been very successful and the vast majority of Year 10 have had the opportunity to engage with their teacher. Please continue to encourage your daughter to attend these sessions and if there are any problems accessing her e-mail or Office 365 account please contact the School Office. Below is a 'how-to' guide, available for download, for the students as well as explaining the expectations whilst online.
Online MS Teams Tutor Group Meetings
We trialled some MS Teams tutor group meetings this week and they too went incredibly well. These will be rolled out across the entire school and each student will receive an invite from their tutor via their e-mail in the coming weeks to attend a tutor group. As a result, we will no longer be making contact via phone with each member of a tutor group except for those students who need additional support. Look out for the e-mail as we start to reconnect the girls with the school and each other as best we can.
Registration
Please ensure your daughter continues to log into her email and accesses the registration form before 10am . Encourage her to log into both Show My Homework and her e-mail each morning. Some students are accessing the work and forgetting to fill out the registration form. If you have any problems please contact the School Office.
Catch-Up and Summer School
The government announced today a £1bn package for students. As I write this we have not been given any more detail or information on the implementation of this funding but I will keep you updated as we move forward.
Year 12 Lessons
We are exploring the option of inviting some Year 12 students into school from week commencing 29th June. More details will follow in due course.
Building Works
The building works continues and we are in the process of refurbishing four toilet blocks in preparation for the girls returning. The toilets in both E and G Block have been combined into a large toilet in each area with new furniture and fittings (they were pretty awful previously). We have also installed new doors and fittings in a number of blocks to increase our fire safety. I will update the students and you with more information and photographs of the works throughout and when complete.
Free School Meals
The government announced this week that the Edenred voucher scheme would continue over the Summer which we are delighted to hear. If you feel you could be entitled to Free School Meals please apply through this link https://www.cloudforedu.org.uk/ofsm/sims. It is worth taking the time to fill out the form as you may be entitled and not be aware.
Fundraising
It gives me great pleasure to tell you that we reached our £3k target! Thank you to everyone who donated and promoted our cause – I am extremely grateful! Monies will be used to continue to make PPE for local services and support local charities who are under pressure during the pandemic. Thank you, thank you and thank you again – we are proud that #teamchsg has once again stepped up and helped those who need it the most at this difficult time.
Mr M Devenney, Headteacher